Millennials Step Up Their Home Purchasing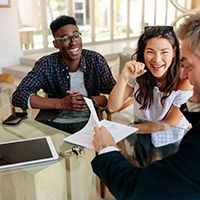 Mortgages to millennial borrowers for new home purchases continued to climb, accounting for 91% of closed loans from May 2018 to July 2018, according to the latest Ellie Mae Millennial Tracker report.
The Pleasanton, Calif.-based Ellie Mae found new home purchasers born 1980-1999, up from April's 89%, and January's annual low of 81%. The latest Millennial Tracker also revealed conventional loans accounted for 69% of all closed loans for millennials in June and FHA loans came in at 27%.
Ellie Mae indicated this parallels the Census Bureau's latest quarterly homeownership and vacancy report that shows homeownership across millennials age 35 and younger improved a tad, representing 36.5% of all homeowners, compared to 35.3% in the first quarter of 2018.
Conventional loans remained desirable among millennials, accounting for 69% of all loans closed in the latest tracking, a slight gain from the 68% in the previous report. FHA loans represented 27% of all closed loans to this generation, down one percentage point from the month prior. Ellie Mae noted this is significantly higher than the Ellie Mae June Origination Insight Report data, which showed FHA loans represented 20% of closed loans in the month for borrowers of all ages. The Millennial Tracker is a subset of the Origination Insight Report.
The average millennial borrower's FICO scores across all loan types grew slightly in the latest Millennial Tracker to an average of 723, up from 721, a rate that held steady from March through May. For purchases, the average FICO score was 746 for a conventional loan, 681 for an FHA loan and 744 for a VA loan.
Across all loan types, it took millennials an average of 42 days to close on their loans in June, a day longer than in March, April and May. Purchases took an average of 41 days and refinances took an average of 45 days.
In June, the hottest housing markets for millennials were primarily in the Midwest. The top markets by percentage of millennial loans closed included Clarksburg, W.Va. (65%), Watertown, S.D. (65%), Boone, Iowa (64%), and Dickinson, N.D. (61%).  The top metropolitan areas: Indiana, Pa. (64%), Bay City, Mich. (63%), Watertown, S.D. (62%), Big Spring, Texas (61%), Williston, N.D. (60%), Aberdeen, S.D. (60%) and Mitchell, S.D. (60%).
Ellie Mae said because it remains a competitive, purchase-centric market, they will continue to keep a close eye on the purchase trends amongst millennials.
This new generation of homebuyers wants the capability of an on-demand mortgage, and borrowers to provide a convenient and secure digital mortgage offering that makes the homebuying process a seamless experience.
The Ellie Mae Millennial Tracker is an interactive online tool that provides access to up-to-date demographic data about this new generation of homebuyers. It mines data from a sampling of approximately 80% of all closed mortgages dating back to 2014 initiated on Ellie Mae's mortgage management solution. According to the firm, given the size of this sample and Ellie Mae's market share, it is a strong proxy of millennial mortgage indicators across the country.
---
For more articles like, Millennials Step Up Their Home Purchasing, subscribe to CCG Insights.