Banks Must Embrace Digital Transformation
An integration of front-end and back-end processes
for a customer-centric bank
Because of changing consumer expectations, banks are shifting from a largely product-centric viewpoint, to a more customer-centric model. Satisfying the different sets of desires for each customer segment requires becoming a truly customer-centric bank, which in turn demands a full embrace of digital transformation. This necessitates updates in business processes, IT architecture, culture, and overall operating models.
Bank executives have tended to view digital transformation too narrowly with a focus on front-end functionality delivered to customers. Many banks have come up with more modern and consumer expected "apps"; calculators, comparison charts, servicing tools, check and payment options, etc. While this focus on the customer, particularly with younger constituents, is to be applauded, it will not deliver the total experience expected if the underlying connected processes, data, information flows and integrations are not in place.
It's in the integration of front end, back end and other areas where true digital transformation still needs to occur. This would ensure an end to end customer driven positive experience and opinion of the organization as "progressive" in a traditional industry.
From a pure digitization viewpoint, in retail banking we often still notice:
Lots of information-related processes happen manually and leave room for errors
Disconnected systems, resources and – again processes – are time-consuming and costly
Legacy Core Systems, that are not prepared for the emerging digital only products and processes.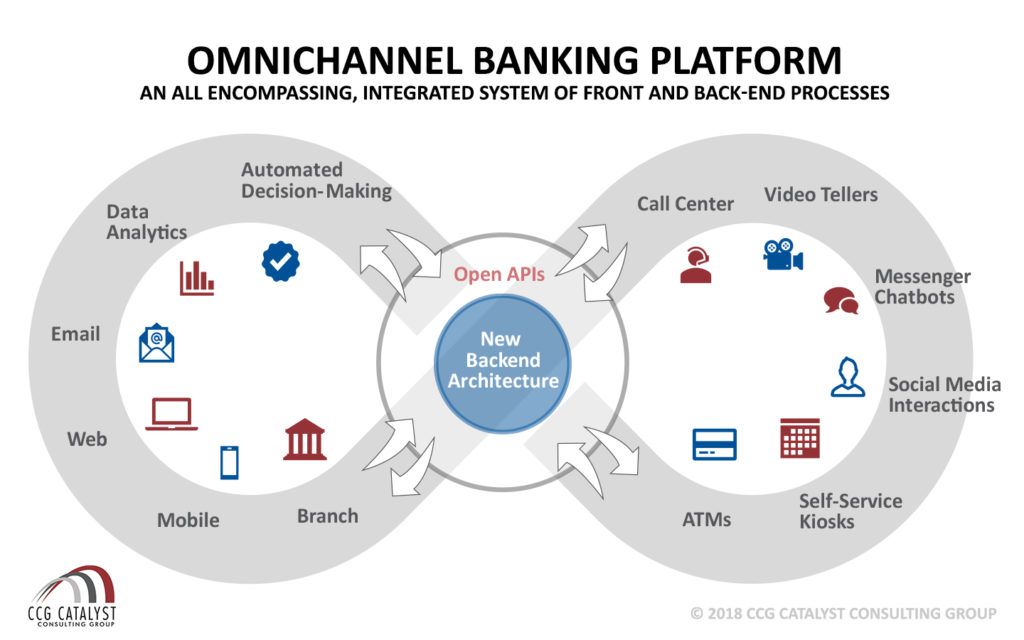 Banks will need to be more adept at building middleware (open API's) to deliver processes from 3rd parties that legacy core systems are not prepared to do. They will need to adopt emerging backroom technologies to assist with the unified information interchange from front to back, ultimately creating a seamless delivery to the consumer. For a bank's service support functions, consumers should expect little to no use of a branch or call center in the near future.
There is a benefit for the banker also. There is a lot of value to gain in the automation of servicing and fulfilment process. Branch consolidation is a way to reduce costs and develop digitization and digital transformation strategies. Digitizing back office processes and automating back offices, for instance, leads to cost savings. Document management systems, Workflow engines, Robotic Learning, Chatbots, are all technologies enabling this shift. The technologies are all part of the digital ecosystem enabling the expected customer experience and the needed cost savings to fund these new capabilities and increase shareholder value.
---
Subscribe to CCG Insights.