It's Not You, It's Me, Well…It's Actually You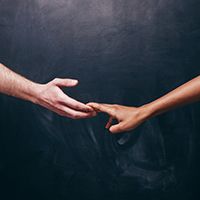 Bank customers are a fickle bunch, seemingly going back and forth on their feelings for their bank. Some customers want a relationship with their bank while other customers think only about the utility that the bank provides. But when it comes to a serious breach of trust, the customers will quickly leave for a bank they can trust.
CCG Catalyst's latest study explores customer's trends in switching banks. Trust was the main concern of the respondents, of which 55% left their national banks to go to a community bank or credit union, which implies that the former national bank customers trust these financial institutions more.
Whose fault is it?
Customers cited many reasons for their lack of trust in their financial institution:
Surprised by increases in fees, or hidden or fluctuating fees
Poor customer service and attention
Dishonesty and unethical behavior, causing customers to quickly reevaluate the relationship.
Frustrated and inconvenienced by the distance to a branch location, defective ATMs, slow service, operating hours
What do they really need?
Life stage and lifestyle are strong underlying influences on customer's behavior in leaving their primary financial institution. The younger generation of customers will easily leave because they are used to change, while the older generation is less likely because of habit and routine. Business customers will look for a bank or credit union that can provide a well-rounded relationship and help in growing their business.
Customer attrition is a problem for financial institutions. Solving the problem can be costly if many customers leave your financial institution at once, and the cost of acquiring new customers becomes steep. Rebranding, advertising, and public relations must commence if the reasons for leaving are a poor untrustworthy reputation. Crisis communication expenses alone can jolt the bottom line, while damage to the reputation is getting under control.
The reasons for leaving can be remedied by understanding what customers need, how they want to be treated and giving them the best in products, services and customer experience to meet their needs. Financial institutions that recognize the problem and establish proactive habits to uncover unhealthy practices that cause attrition, will learn, adjust and become more successful in keeping their customers. To get the root causes of attrition, begin by conducting deep customer research.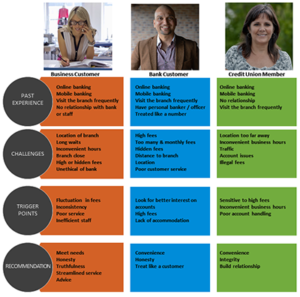 Let's break it down by type of customer:
Comparing the business customer, bank customer, and credit union member, there are similarities experienced with their former financial institution. Each customer segment conducts their banking online and through mobile banking, as well as visiting the bank frequently. All the customer segments lamented they are only a number with no relationship with their FI. Inconvenience is a consistent challenge with all customers segments, specifically citing distance of the branch and hours of operations. Fees are the challenge for each of the customer segments. The bank customer notes poorer customer service and the business customer and credit union member discussed ethical concerns with the FI.
The differences between customers are in the themes of the challenges. Business customers expressed deeper challenges with channels, products, and services. Bank customers and credit union members had more challenges with experiences with their FI.
It's simple! customers expect:
Better service
No fees or increase in fees
Better online/mobile banking experience
More product choices
Personal relationship with a banker
Long branch hours
Customers switching banks will not be the predominant cause of the 80% of the banks disappearing by 2030, as Gartner claims. It's certainly harder to predict the future than it is to understand human needs and behavior. Bank customers prefer a destination to go to, sure many aspects of their banking are conducted either online or through mobile banking, and they still want human touch. In CCG Catalyst's study, Millennials and the Future of Banking, 78% told us human interaction is important!
It's important to understand the customer relationship. These tools will help financial institutions value customer needs and build a trusting long-lasting and loyal relationship.
Here are tips on how to do so.
Assess the customer experience
Evaluate customer service practices
Segment to define life stage, lifestyle, and needs of your customers or members
Examine the omnichannel methods to identify areas that cause disappointing experiences or service
Perform a competitive promotion assessment to remain competitive
Redefine customer strategy and engagement.
Customers have many financial institutes to choose from, why give your customers reasons to leave, especially when customer retention is less costly than customer acquisition.
CCG Catalyst Research and Insights has several studies about bank customers in the works. Sign up to be in the know with fresh insights.
Questions regarding the study and to obtain the full report, Why Customers Switch Their Bank or Credit Union, contact marketing@ccg-catalyst.com
Click here for the abstract for Why Customers Switch Their Bank or Credit Union.
---
Subscribe to CCG Insights.