Data Use Raises Creep Awareness When 'Touching' Customers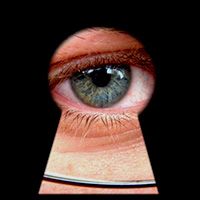 As financial institutions strive to improve the customer mobile experience, keep employing analytics to reach out and touching customers, they should also ask, "Is my brand being creepy?"
Facebook dominated much chatter recently following reports that data analysis firm Cambridge Analytica used the social media giant's data on as many as 87 million people without the individuals' consent.
San Francisco-based Blind surveyed users of its anonymous workplace app for tech workers asking them if they plan to delete Facebook. The survey ran from March 20, 2018, through March 24, 2018, and more than 2,600 users responded. Overall, 31% answered 'YES' and 69% answered 'NO.'
Another reaction came from the Internet Society, a non-profit formed 26 years ago with the mission to have an open, globally connected and secure Internet. Their statement suggested economic and social drivers led to this incident and provided recommendations for those who collect, use or share consumer data such as financial institutions.
"The Internet Society is disappointed, but not surprised, at the news of the Facebook/Cambridge Analytica revelations. This incident is simply the natural outcome of today's data-driven economy that puts businesses and others first, not users."
They noted Mark Zuckerberg's apology is the first step, but it is not enough. "The seriousness of the revelations calls for more than mere apologies. Change is needed."
The Internet Society recommended the need for higher standards for transparency and ethics when it comes to the handling of information. "Anyone who collects data must be accountable to their users and to society."
As organizations, including those in the financial services community, strive to keep touching customers, they should also ask, "Is my brand being creepy?" according to the 2018 CX Trends Report from Salt Lake City-based text analytics firm InMoment.
The study asked 2,000 customers and 1,000 brands about various customer experience topics to determine where companies and their clients are diverging.
The No. 1 trend was: "Personalization can get too personal." Defining "creepy" as brands "causing an unpleasant feeling of fear or unease," the survey noted that 75% of respondents find most forms of personalization brands use to be at least somewhat creepy.
Additionally, 40% of brands admitted they knew they were being creepy with people's personal information, including tracking what they buy, places they visit online, places they shop in person and other such info.
What is creeping people out? The survey included anecdotal evidence about creepy behavior displayed by brands:
"When I have been shopping online and a product I was looking at appears publicly on an unrelated page sometime later … This makes me feel like I'm being watched!"
"I didn't like being emailed about a product I had left in a cart on a website or emailed about products I have recently searched. Also, I do not like targeted ads on websites. It feels like I'm being stalked."
"[The brand] wanted me to enable/install app to get a great in-store experience, but of course it ALSO asked for permissions to [access] my contacts, location, emails, etc. NO WAY."
The good news for brands who like to "touch" their customers is 49% of consumers will not actually do anything after being creeped out. However: 22% said they would look for a different brand, 21% said they would stop using the brand, another 21% said they would tell their friends, and 9% said they would post negative comments on social media.
---
Subscribe to CCG Insights.