Moving Forward in a Post-SVB World: Part III
June 29, 2023
Bank Failures and Stability
For the last couple of weeks, we've been exploring how bank executives in the US are responding in the wake of recent bank failures like SVB and Signature Bank. Based on data from our Banking Stability and Innovation Study 2023 — which surveyed 108 C-level bank executives in the US between May and June — we've looked at overall sentiment as well as how executives feel these events impacted their business. Now, we are turning to how they're thinking about the future — specifically, when it comes to their strategic direction and plans for innovation.
According to our survey, a majority (62%) of respondents said they are making at least some changes to their strategic direction as a result of the fallout. However, only one fifth of respondents reported actively reassessing plans for the future, while 42% said they are making some adjustments but nothing major. This data further reinforces our analysis that overall reaction to the current environment is serious but measured, with most executives taking a moderate, if not cautiously optimistic, view. On innovation, the story is similar. While nearly half (48%) of respondents indicated at least some pullback on this front, only 16% said their bank is reassessing its innovation approach or is now more reluctant overall. Meanwhile, 39% fully reiterated their bank's commitment to innovation. This is generally good news, as it suggests that institutions broadly aren't pulling back out of fear and remain with an eye toward the future.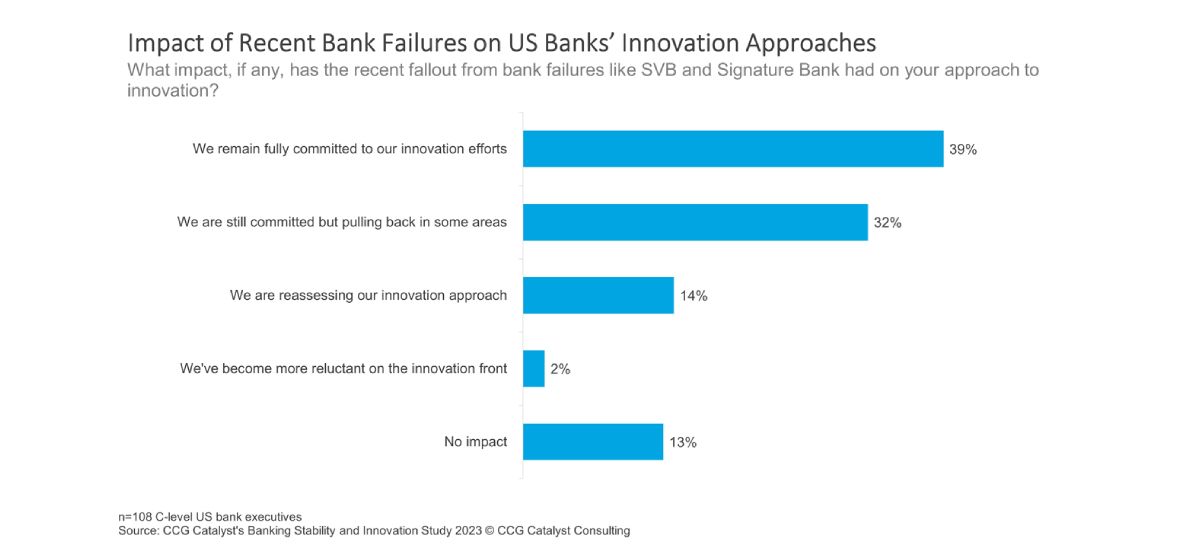 Overall, this data is quite refreshing, not only given the events of the last few months but also the scrutiny bank-fintech partnerships came under in 2022 as well as a still-uncertain macroeconomic outlook. To be fair, yes, you could choose to look at these survey results and say, "Everyone is making changes and pulling back." And that's somewhat true. But it's also expected. The refreshing part is the degree to which we are seeing those adjustments. As far as we can tell, at a time when irrational behavior could very well be taking hold, the industry by and large seems to be reacting reasonably. And that is very, very promising.
The question then becomes, "Where are efforts going to be directed now?" Tweaks can come in many forms, after all. To that end, we also asked respondents about their priorities going forward. We'll dig into that next week in our final post of this series. Spoiler: It's all about the data.