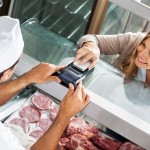 Walmart's mobile solution Walmart Pay is now available in all of its 4,500 Walmart stores nationwide. It works at checkout lanes with any major credit, debit, pre-paid, or store gift cards.
Walmart Pay, built into the Walmart app for iOS and Android, relies on a QR code checkout process that involves opening the Walmart app, selecting Walmart Pay, activating the camera, and scanning the code displayed at the register. Upon completion of the transaction, the user gets an electronic receipt on the Walmart app.
"We're connecting all the parts of Walmart into one seamless shopping experience," Daniel Eckert, senior vice president, services, Walmart U.S. said.
Walmart Pay is one of the newest additions to the Walmart app, which the company said ranks among the top three retail apps in the Apple and Google app stores with more than 20 million active users.
"Walmart Pay is just the beginning," Eckert said. "We're building deeper relationships with our customers across our ecosystem and are looking forward to delivering new tools like Walmart Pay."
Walmart Pay transactions increased 45% in the last week, according to a press release dated July 6.
The official arrival of Walmart Pay along with the pending introduction of JPMorgan Chase's new mobile wallet, Chase Pay, signals either a new mobile payment threat for financial institutions or the catalyst for new opportunities.
Mobile wallet technology, available since 2010, is surging in usage. eMarketer forecasts m-wallet transactions will increase by 210% this year alone. The average spend using proximity mobile payments by users in 2014 was $224.44, and eMarketer forecasts by 2019 the average spend per user will be $3,017.02.
CCG Catalyst's Project Catalyst survey found millennials, often coveted by retailers and marketers, have specific preferences when it comes to payment tools. Not surprisingly, they use newer payment methods, including mobile wallets, at a higher rate than the general population.
While mobile payments are becoming more popular, they still face some high barriers, such as consumers' continued loyalty to traditional payment methods and fragmented acceptance among merchants.
In other big-box payment news, Visa is now the only major credit card network accepted at all Costco outlets. For the past 16 years, the warehouse store only accepted American Express cards.
As of June 20, not only did it stop taking its own co-branded American Express card, but it also stopped accepting American Express as a payment method altogether, switching to Visa as its exclusive credit card company. The American Express loyalty cards also became inactive as of midnight on June 19, replaced by Costco Visa cards.
Costco customers had more than a year's notice about the switch. That, however, did not ward off some commotion from taking place in June, when Costco's Visa card, the Costco Anywhere credit card, officially replaced its TrueEarnings American Express.
Reports revealed many Costco customers never received the co-branded card that was supposed to succeed their store-branded American Express card. Others had trouble activating the new card. Many customers were unable to get through to customer service or put on hold for up to an hour listening to apologies for unexpectedly high call volumes.
Although Visa is now the only credit card accepted at Costco, members can use other forms of payment or Visa cards other than the Costco Anywhere card, but only the co-branded card gives shoppers cash-back perks that are slightly higher than those that were offered with Costco's American Express cards.
On Monday, a Costco spokesperson said that while a small percentage of customers had not received cards, the vast majority arrived on schedule.
Click here for more information on bank millennials and non-millennials behavior with mobile wallets.
Join CCG Catalyst for: