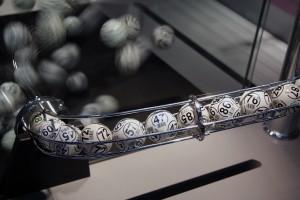 A $250 million bank is using the lure of lottery-like winnings to attract consumer deposits, the Blue Ridge Bank of Luray Virginia. This is a fantastic idea to create a new kind of buzz around a buzz-challenged community bank. This is a scary idea in that "lottery finance" is not exactly a proud corner of the finance world, and it is in the opposite direction of financial-independence touting mission statements.
The retail banking industry has an identity crisis. It's not that the average consumer does not understand retail banking; it's that the things retail banks have done in the past are looking less important by the minute. While the non-banking world is fully engaged with the excitement of transformation and extremely cool apps, the banking world still hasn't offered much in the way of alternatives.
The lesson here is not to get all high and mighty against lotteries. The lesson here is that banking desperately needs an identity that will bring customers to their doors for the next century. If one of the industry best ideas is to entice customers with gambling on their earnings, then we're in bigger trouble than it looks.
What would a more sustainable attraction to banking look like?
Giving customers truly optimal finance support. Banks do not, for example, automatically lower credit balances when consumers have cash because it's more profitable to the bank when customers are inefficient. Banks routinely use teaser rates which are designed to be worse for the customer after a short burst of value. Banks charge the highest fees when consumers are least able to pay them. Banks rarely consider alternative financing outside of their own bank, even though they would if they were truly optimizing. These efforts may lower short-term revenue but bring in long-term loyal customers.
Connecting people to rewards tied to community-benefiting behaviors. For example: rewards for "buy local" transactions that get paid partly by the bank and partly by the business (because both benefit).
Creating networking opportunities in the local community: Binging bank depositors into bank borrower shops to buy goods; bringing consumers together with other consumers in shared-interest events; creating B2B opportunities that will benefit both sides.
Creating specialty services for particular industries or customer demographics that tie directly right into their most precious needs. Creating specialty is the time-tested, historically powerful way to re-ignite a commodity business. (Seen many GP doctors lately?)
So, why aren't the banks working harder to engage consumers? Many banks are tackling this disrupted period by filling their whole plate with two dominant efforts – "big data" to better understand and target customers, and technology solutions to keep up with the times. Both of these are "fantastic" efforts that all community banks should have on their lists. On the other hand, neither one will overcome the crisis of value proposition. There will always be better technology from bigger entities. Pushing advertisements on higher probability targets helps short term, but not if the bank hasn't spent the time to build up the offer to something worth having.
How does a bank choose a new customer engaged path? Tie it to what the bank already does well, and what customers already love about the bank. Banks think they know this, but deep dive analytics often show something unexpected. Tie it to the brand, the strategy, the staff, the region, the demographics, the industry concentrations, the current portfolio strengths, culture, and all those wonderfully entwined aspects of living in an American community. A bank needs to know where and how it inspires people in meaningful ways, and then it needs to elaborate, educate, and electrify their prospective markets to come running to their door.
These are all perspectives that a strategic planning session needs to unearth. After that, it just takes imagination, guts, a willingness to test and fail, and a genuine love for banking.
Gren Blackall is a Retail Practice Director at CCG Catalyst. Follow CCG Catalyst on Twitter and LinkedIn.