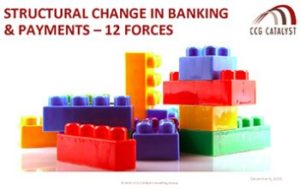 Through our client engagements with major banks, payments companies, and early-stage Fintech firms, we have been addressing and advising on issues of financial services industry disruption, disintermediation, and displacement. We have been helping incumbents navigate a new landscape through a strategic framework that prioritizes investments in high potential, innovative, and collaborative opportunities, while assisting startups     scale, and forge win-win partnerships with financial institutions.
Against this backdrop we are witnessing unprecedented and accelerating change that is re-shaping the banking and payments industry. These changes are not limited to just the financial services industry – they are pervasive in nature and reach across markets and industries. Consider the power of mobile and digital: 84% of Facebook's ad revenue comes from mobile, GE the classic industrial conglomerate has refashioned itself   as a "digital industrial company".
We believe there are multiple transformative forces at play that are driving structural and secular industry-wide change in banking, lending,  payments, and investments. We have identified 12 powerful elements that we think are having a profound effect on the future of the industry.
It's increasingly a brave new world order and the banking and payments industry must rapidly adapt. It must learn to dis-assemble and re-assemble its business and operating model, channel investment into 'customer delight journeys and moments', and use its traditional advantage of trust and security as offensive levers. It must learn smart use of data and technology, build strategic partnerships and alliances with Fintech (and regtech firms), and re-craft the playbook to focus on higher margin activities that seek to engage the hearts and minds of customers.
We remain bullish on the future, the possibilities ahead, and the industry.
Download the report here.