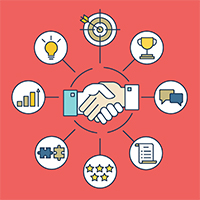 Self-service, available for a long time at retail locations such as grocery stores, gas stations, and financial institutions, nowadays provides more virtually-assisted capabilities, through interactive teller machines and mobile, than ever before.
By moving transactions from conventional teller lines to an integrated self-service atmosphere within brick-and-mortar locations, drive-throughs, or using mobile interactions, banks and credit unions can attain operational efficiencies and cost savings.
Before the 1970s, self-service at a financial institution basically entailed filling out a deposit slip with a pen chained to a counter. In 1959, Luther Simjian developed the Bankmatic Automated Teller Machine and later one of his 20 patented devices reached pilot mode but failed due to lack of demand. Some 12 years later the self-service banking era arrived. By 1973 there were some 2,000 ATMs operating in the U.S. and by the 1980s, ATMs made up a significant remote banking channel. Today they number more than 400,000 in the U.S. Self-service banking continued to progress. By 2020, Gartner expects customers to manage 85% of the enterprise relationship without human interaction.
Video is a key component, for this multichannel strategy. uGenius, personalized the interactive ATM experience in 2005 with two goals: speed the teller line as well as drive up lanes, and take all the tellers and consolidate them into a central call center. NCR purchased the uGenius technology in December 2012.
An integrated self-service approach not only streamlines basic transactions by permitting account-holders to rush past teller lines, or avoid them altogether via mobile, but frees up or distributes service representatives to support with value-added engagement such as account and loan originations, complex financial needs, or customers seeking financial assistance.
Now some financial institutions see video technology as a key retail banking component. NCR recently announced its new SelfServ 80 ATM solutions with video banking built-in as a standard feature and designed specifically for today's mobile-first, omnichannel consumers. Users can swipe, pinch and zoom their way quickly through transactions. More than 330 North American financial institutions across 50 U.S. states have integrated NCR Interactive Teller into their omni-channel banking offerings.
Some community banks and credit unions plan to deploy interactive tellers at drive-thru lanes where a one video teller can manage, on average, three to four lanes. This lowers the salary and benefits expense for the financial institution and provides continuous coverage. Standalone ITMs drive ups could also exist in locations such as a mall parking lot.
During normal business hours, members have the choice of a video teller or conventional ATM transaction. Also with ITMs customers can connect to specialists for mortgage, investments and business lending.
Mobile capabilities also now put banking into everybody's hands contributing to the upsurge in a variety of self-service technologies. One game changer is the push toward mobile 2.0, which allows for social interaction and next level functions such as card controls, account opening, and loan origination capabilities, as well as consultative services.
Symitar also recently announced the availability of Appointment 365. The scheduling tool matches the appropriate branch resource, based on skill set and availability, with the customer's need; and coordinates appointments in real time across the whole organization, including branch locations, staff resources, and services.
The business decision for banks to use self-service devices and app makes good sense, as does understanding the bank customer needs for self-service. Using design thinking as an approach to understanding the bank customer will help in creating a customer experience that will produce satisfying results and less commoditization. Project Catalyst can help bank executives through design thinking to identify the customer journey and products to define the bank's differentiation. To learn more let's setup a call.