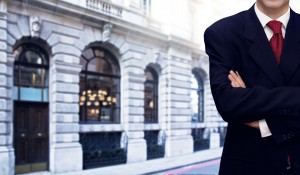 How to build relationships in a digital world
"Tellers are the face of your bank."
That adage may have been true—but what if your customers prefer a mobile banking app, online banking website and ATMs? For community banks that have relied on personalized interactions with customers as a differentiator from national banks, digital faceless banking can seem disturbing.
The key to building relationships with customers is to incorporate the human touch into your digital presence. Here are three ways to deepen customer relationships using both your human face and digital interface.
1. Embrace the New Eyes and Ears of the Bank
As the eyes and ears of your bank, your staff likely knows a lot about your customers. You can get the same type of information in a digital world.
Each direct deposit, withdrawal, bill payment, or transfer can tell you when and how often a customer accesses mobile banking, if they prefer to bank online, how much of their income is left after paying bills, and even if they are saving for a new home or their children's college education.
Uncover customers who pay for expedited online bill payments and offer them tools to better manage cash flow. Offer to set up low balance text alerts for customers who check mobile banking more than once per day. If a customer has a monthly mortgage payment to another bank, offer to refinance their mortgage.
2. Deepen Family Ties
Customers want to feel that they have an emotional tie to your staff, even if they never actually come in contact with them. Even Millennials, thought to be more interested in their mobile devices than interacting directly with other people, place a high value on physical socialization.
Appeal to your customers' need to connect with other people by including photos of people in your marketing and advertisements. Use actual photos of your employees, customers or of your community rather than stock images.
3. Make Use of Your Human Faces
You need a strong digital footprint as well as a strong human presence. Branches will remain viable, but they will continue to evolve. Rather than serve as transaction centers for making deposits and withdrawing funds, branches can morph into social hubs where customers can gather and interact with your staff and with each other.
A community bank in the Southeast U.S. is experimenting with a branch-as-coffee-house concept in which customers can get financial advice and linger over a cup of java.
What to Do Next
Come up with a plan and execute that plan. Incorporate both the human face and the digital interface into your brand. Use the data you collect at digital touch points to make your customers feel a part of your bank family. Don't be afraid to experiment with new ways to physically interact with customers.