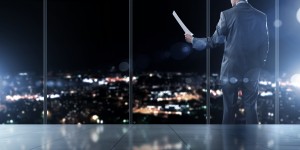 Samsung launched Samsung Pay in the US becoming the third mobile payments provider after Apple Pay and Android Pay. Samsung Pay is enabled on select new Samsung phones, the Galaxy S6, S6 edge, S6 edge+ and Note5 and will work at both NFC terminals as well as mag stripe terminals. The mag stripe terminal acceptance functionality gives Samsung Pay an edge over both Apple Pay and Android Pay that work only at NFC terminals. Samsung's mag stripe capability leverages Magnetic Secure Transmission technology from LoopPay, a company that Samsung acquired earlier this year. At launch Samsung has deals with three of the major payments networks (American Express, MasterCard and Visa), four large financial institutions (Bank of America, Citi, Synchrony, US Bank) and four of the top telecommunication companies (AT&T, Sprint, T-Mobile and US Cellular). Discover and Verizon are currently not part of the service. Given lackluster usage with existing mobile payments solutions it remains to be seen if Samsung Pay with its broader merchant acceptance can spur usage. More importantly, for banks and card issuers this is yet another mobile payments solution that they need to invest in. We think this will be tough for many FI's, particularly mid-tier and small banks and we see slow going in the short term.
Canadian Tire launched an innovative new mobile payments app, the 'Canadian Tire mPay & Play.' The app is designed for Canadian Tire Options MasterCard and offers a rich array of functionality that goes beyond payments. According to company information, the mPay & Play app allows cardholders to make payments at Canadian Tire stores, accumulate and redeem rewards, access discounts and special offers as well as use a variety of servicing features. Additionally, the app provides a high level of security through end-to-end encryption and data protection technologies. We think this is a solid example of a mobile payments solution that reaches beyond payments to leverage mobile and digital technology to build higher levels of customer engagement and affinity.
R3 CEV announced that an additional thirteen banks have joined its financial technology consortium to "design and apply distributed ledger technologies to global financial markets." The thirteen banks include, Bank of America, Bank of New York Mellon, Mitsubishi UFJ Financial Group, Citi, Commerzbank, Deutsche Bank, HSBC, Morgan Stanley, National Australia Bank, Royal Bank of Canada, SEB, Societe Generale and Toronto-Dominion Bank. This comes about two weeks after R3 disclosed that nine major banks had decided to partner with it to examine financial applications related to blockchain technology. According to a company press release, the consortium will work on establishing consistent standards and protocols to expand adoption and create a network effect.  One of the potential benefits is the ability to establish an open platform that multiple firms can connect to in turn driving reconcilement efficiency. We continue to note increasing industry interest in blockchain technology – particularly among global and money center banks.
Adyen raised a new round of funding that values the company at $2.5B. While the amount of the funding has not been disclosed (it is believed to be in the double-digit millions), Adyen's valuation has increased dramatically over the last year underscoring the importance of digital payments processing – last year Adyen raised $250MM in a Series B round at a $1.5B valuation. Adyen handles payments for seven of the top 10 US Internet firms including Facebook, Uber and Netflix, and has a relatively unique omni channel and cross border proposition including a robust analytics service. According to company and industry information, Adyen is on track to generate $45MM in profits this year on YTD volume of $45B. The company expects to use the proceeds of its funding to expand and grow in the US. The latest investment is from Iconiq Capital.
Mercado Libre has stated that it is integrating Bitcoin into its payments platform MercadoPago. At this time the implementation plan is unclear as is the schedule related to the 13 countries in which MercadoLibre operates. The digital currency acceptance appears to be a part of a MercadoLibre's desire to stay current with developments in the payments industry and provide a variety of choices to merchants on its marketplace. MercadoLibre is Latin America's largest e-commerce platform with 120MM users and revenue of $550MM+.
PayPal Here launched a new payment acceptance device that can support EMV cards as well as NFC transactions. The new reader is competitively priced and will sell for $149 with an incentive offer for small merchants – merchants that process less than $3000 in 3 months will get a refund of $100. PayPal joins other companies like Square, Clover and Poynt that are providing small to medium sized enterprises multifunctional and multifaceted payments acceptance terminals given marketplace and industry changes related to the introduction of EMV cards and mobile payments.
Ali Raza is a Principal and Payments lead at CCG Catalyst. Follow CCG Catalyst on Twitter and LinkedIn.