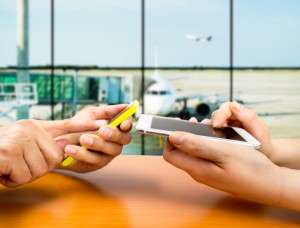 Discover announced that starting September 16 consumers will be able to add Discover cards to the Apple Pay wallet and start making mobile payments. Additionally, Discover cardholders will get a 10% Cashback Bonus on up to $10,000 of in-store purchases through the rest of the year when they use their cards with Apple Pay. This is a good value added issuer incentive to stimulate mobile payment activity and potentially one that other issuers will take note. In general, we believe that mobile payments will require strategic marketing investment both at the cardholder and merchant level to move beyond the 'early adopter' stage. Discover is the last major network / issuer to provision its cards within Apple Pay – approximately 11 months after the launch of Apple Pay last year.    
Chain Inc. reported an investment of $30MM from Visa, Nasdaq, Citi Ventures, Capital One, Fiserv and Orange. This is the second funding round for Chain which had earlier raised about $14MM. Chain is an early-stage company that works with banks and other organizations to build blockchain networks to trade and transfer financial assets. Chain is currently working with the Nasdaq on facilitating the trading of shares in unlisted companies on its private market. This investment is one of the latest examples of the financial service industry taking a serious look at the time / cost efficiency and safety of blockchain technology in digitizing the management, movement and storage of value. The diversity of the Chain investor group also points to the wide range of constituents interested in blockchain technology – from a payments network to a telecomm carrier.
Google rolled out Android Pay, its NFC-based mobile payments service with participation from all four major payments networks American Express, Discover, MasterCard and Visa. Android Pay will support tokenization, work with NFC-enabled Android phones (running KitKat 4.4+), NFC merchant terminals, and handle both credit and debit cards, as well as gift and loyalty cards. According to Google reports, cards from several major issuers were provisioned at launch with many others expected to come on stream shortly. At the acceptance end, 1MM merchant locations are immediately available, with in app purchases coming later. This is Google's second foray into mobile payments. The first, Google Wallet is being re-positioned as a P2P service. The second iteration of Google's mobile payments solution is expected to fare better given momentum and visibility created by Apple, as well as broad network, issuer and merchant support. In many respects, Android Pay is similar to Apple Pay (both work at NFC terminals) but with one critical difference – Apple has an issuer fee whereas Google does not. This currently does not seem to be a concern for banks but may become important as transaction activity grows. In the short-term though, banks are focused on providing the broadest choice and utility to their customers. Samsung Pay is coming later this month…
Chase launched the Chase Freedom Mobile App for Chase Freedom cardholders providing them the ability to redeem rewards in real-time at 30 merchants. Chase Freedom cardholders earn a 1% cashback on all their purchases and the equivalent value can be converted to a merchant specific e-gift card through the mobile app and used to pay at the POS. Real-time rewards redemption has been provided by various issuers for e-commerce transactions, and in various guises for POS purchases, but this is a straightforward and elegant implementation along with practical consumer convenience. We would expect Chase to expand this functionality to its other credit cards. Integrating real-time rewards redemption with a mobile payments solution would be more attractive and appealing – Chase could pull this off nicely with ChaseNet along with adding some data and promotional solutions for merchants.
MasterCard introduced Digital Enablement Express, a scalable solution geared to expediting the process of digitizing and tokenizing MasterCard accounts through the MasterCard Digital Enablement Service (MDES.)  With Digital Enablement Express, digital wallet providers, device manufacturers and other ecosystem players have a simple onboarding process to engage with all participating banks.   The Express program is designed to accelerate, scale and standardize the adoption of mobile / digital payments by making tokenized cards available to all digital wallet providers and eliminating the need for separate bank and provider bilateral contracts. Samsung and Google have both signed on as Express partners.
Ali Raza is a Principal and Payments lead at CCG Catalyst. Follow CCG Catalyst on Twitter and LinkedIn.