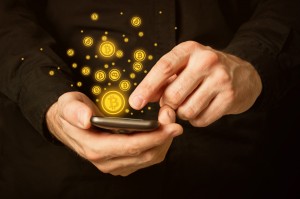 SWIFT recently released currency tracking data that shows steady increase in renminbi (RMB) payments.   In May 2015, 1,081 financial institutions used the RMB for payments with China and Hong Kong (up from 888 two years ago).  Overall, the RMB was the fifth most active global payments currency by value (up from #7 in January 2014) and accounted for 2.18% of all payments worldwide.  This volume, while trailing the USD and Euro that make up about 45% and 28% of global payments, respectively, highlights the growing importance of RMB as a key "internationalization indicator."
CIBC has signed on to participate in 'suretap', the Canadian telco mobile payments system. Suretap was developed by Rogers Communications and subsequently spun off as a separate company. It has support from Bell, Telus, Koodo and Virgin, providing broad customer access across multiple carriers. Suretap works with NFC enabled Android and Blackberry smart phones and contactless POS terminals. CIBC's suretap mobile payments solution complements its own mobile payments app launched in 2012. The coexistence of an issuer based and telco driven mobile payments environment is in marked contrast to the US, and we expect this sector to get more complicated with the arrival of Apple Pay in Canada.
EBay announced that its board of directors has approved the completion of the separation with PayPal with the split scheduled for July 17.  EBay stockholders, as of July 8, will get one share of PayPal stock for each share of eBay Inc. after which PayPal will start trading on the Nasdaq under the ticker PYPL.  This has been a long time coming and should be net positive for the rapidly changing commerce landscape.
Digital Asset Holdings acquired Hyperledger and Bits of Proof adding new functionality in the realm of distributed ledgers. Hyperledger provides distributed ledger capabilities to let FI's clear and settle transactions in real-time while Bits of Proof allows for the integration of blockchain technology into financial applications. In related news, Nasdaq has selected 'Chain' for a pilot to test Bitcoin technology for the trading of shares in private companies.  Chain is a VC-backed blockchain infrastructure provider for FI's and enterprises, and will be the first company to use the blockchain technology on Nasdaq Private Market. These developments continue to underscore the power of the blockchain in driving innovation and efficiency across value transfer processes and asset classes. Bitcoin is not just for payments!
Ali Raza is a Principal and Payments lead at CCG Catalyst. Follow CCG Catalyst on Twitter and LinkedIn.