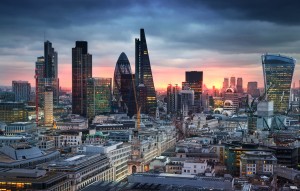 Barclays is reportedly running a pilot test to enable charities to accept bitcoin. Barclays is working with Safello, a bitcoin exchange that went through the Barclays accelerator program in London this summer. The Barclays accelerator is run in conjunction with Techstars. While details are limited, Barclays (similar to other large financial institutions) is interested in leveraging bitcoin's underlying technology and the blockchain infrastructure and if indeed media reports are true this would be the first example of a money center bank conducting 'live' trials. Barclays is calling it a "proof of concept." According to a Business Insider article, Barclays Chief Design and Digital Officer Derek White is quoted as saying, "We've chosen to embrace disruption. We're increasingly becoming a technology financial services company, not a bank with a technology division."
MasterCard launched Start Path Global by expanding its 18 month old Start Path program to Canada, Asia, Middle East, Africa and Latin America. StartPath is a six month long partnership program targeted at commerce related startups where MasterCard provides business, operational or investment support. Companies selected to participate under Start Path Global will also have access to Start Path Partners, a group of global companies in banking, retail and technology. This is a win-win arrangement for both the early-stage as well as established companies in that the startups benefit from having access and contacts to the market, while the Partner companies gain an early view of new technology. As a global payments network, MasterCard is uniquely positioned to play the role of a central hub or 'match-maker' in closing the gap between new and legacy technology while driving towards innovative new commerce solutions.
Klarna announced the launch of its U.S. business and the signing of Overstock.com as its first e-commerce merchant. Klarna is an online and mobile payments provider based out of Sweden (where it handles 30% of all online purchases) and operates in 18 markets with significant presence in Germany, France and Italy. In addition to card / payments acceptance at digital merchants, Klarna offers a 'pay after delivery' service whereby it settles with the merchant and collects payments from consumers within 14 days of the transaction. This convenient post-delivery payment option has driven up conversion rates for merchants – both mobile and desktop. In fact, Klarna's largest 20 merchants in 2014 have increased their conversion by 5.5% during 2015. Klarna's pay after service is similar in some respects to PayPal Credit or Affirm, in that both offer POS financing or transactional credit. This is a nascent, yet interesting market that could have a disruptive effect on credit cards that have traditionally been used for online purchases. We think mobile wallets with an embedded financing facility could be an interesting adjacency. Klarna is currently valued at about $2.25B.
PayPal launched a new P2P money service platform called PayPal.Me. This new P2P service allows for the setup of a personalized URL (e.g. paypal.me/username) that can be shared with others to request money. According to PayPal, this is a "mobile-first" offering catering to a $51B global market consisting of friends and family members that owe each other money. While PayPal currently offers money send / ask features on its website and provides P2P funds transfer functionality through Venmo, this new service is designed to reach a broader global audience. In addition to the U.S., PayPal.Me is launching in 17 international markets. There's been some early 'buzz' around selection of user names – the URL personalization is a nice feature.
EVO announced the acquisition of the merchant acquiring business of Banamex in Mexico. EVO is a U.S.-based merchant acquirer / processor with interests in North America and Europe. Banamex is a wholly owned subsidiary of Citigroup. According to press information, the two companies have entered in to a 10-year strategic marketing alliance that includes an exclusive referral arrangement. Financial terms of the transaction were not disclosed. The EVO / Banamex deal is the second large merchant acquiring transaction in Mexico following the Elavon / Santander JV announced in 2010. Mexico continues to be a largely bank driven, yet under leveraged merchant acquiring market (similar to other Latin American countries) that has proved tough for U.S. and international payments processors. There is significant untapped market and profit opportunity here – the key is to balance growth and high-tech solutions with local customs and requirements.
Ali Raza is a Principal and Payments lead at CCG Catalyst. Follow CCG Catalyst on Twitter and LinkedIn.