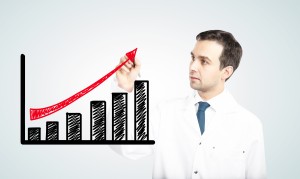 Netflix discovered the power of original content. The last quarterly earnings report attributed their 31% year over year increase to original shows like Bloodline and Marvel's Daredevil. They discovered that just having access to loads of movies was not enough to stay relevant as their movie-streaming disruption from a few years ago is now commonplace. So they went from streaming content to creating original content. It worked.
Can banks put out original content? Of course. The most strategic example would be bank/branch specialization.  Some believe that specialization around specific products and/or specific subsets of the market is the only way retail banking will stay vibrant. This is a form of original content when a bank presents the same products they have always had only in original ways. (This is not quantum physics.)
This is an antidote to "boring." Thanks to the bell jar of regulation on top of banking, they have been mandated to be unoriginal. Add to this the banker hangover from the last century where banks were hired and encouraged to stay off the radar and be rather dull. Original content will show the community that the bank has a personality and something unique to offer, and that they have evolved to be the sharp, innovative, interesting, open, transparent, and creative partner that customers expect.
Content should show the brand. If the bank brand is to be the best in some part of banking, then content ought to be coming out at least weekly offering expert advice expected from the "best."  If the brand is personal, friendly, advisory, then the content should be personal, friendly, and advisory.  If the bank claims to add value to people's lives, then their content better offer value to the people who have spent the time to visit the site. Or they will leave and never come back. Posting in Facebook about who was promoted to VP, what non-profit received a 4 foot long check, or to have a happy Labor Day is not original, not particularly interesting, and adds little value (except to the VP's mother!)
It's more complex than this, of course. This should be discussed in the c-suite as a strategy, and not pushed down to a marketing operations assistant. Future bank success hinges on whether customers will see the bank as valuable to bettering their financial lives. Original content could well be the best way to prove it.
Have your bank assessed for its customer engagement. Every place you touch, customers should be evaluated for its ability to "engage", from OD notices to weather closings, from the brick branch to the electronic branch (formerly known as the Call Center), and of course, on the originality of the bank content.