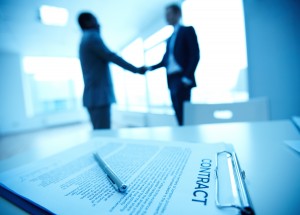 "It's eighteen months before my core/ancillary contract is due to expire; it seems like the perfect time to begin discussions with my vendor(s) for a renewal. In talking with other peers, they seem to be spending a lot less than I am, and their efficiency ratio is better. I am not receiving value for what I am paying for…"
Does this sound familiar? Many banks are in a similar situation and don't know where to turn for help and guidance.
Let's discuss the fork in the road: You are either happy with your technology or unhappy with your technology. You are seeking a company that can help you negotiate a lower price and improve your technology. Wouldn't you like to have an "apples to apples" comparison of what the vendors have to offer – both in products and with pricing? Questions you need to ask are: how is my bank using its current technology, could new technology help eliminate or reduce manual processes, and how do I negotiate better terms.
Your strength in contract negotiations is the point at which you have time to work through contract terms, pricing and which new products to add, if any, but still allow you to move to a new vendor of choice if negotiations fail.
This is why many banks look to a consultant to assist them in this process. Why a consultant? Because you may not know any other vendor than the one you are using or have used in a prior life.
With the increase in regulations and exams, your staff is already overworked. As consultants, we bring a knowledge of all the vendors, current market intelligence in regards to other options/vendors that may be available and competitive market price for the vendor's products and services.
We bring structure to a process that may drag on for months and, in some cases, up to a year for the contract to be finalized with your vendor of choice. You are at your greatest advantage at this point to review any new products, training or other changes that you want, and it is best to add them at this time.
Given that the contract can be negotiated with your current vendor, you will be able to take advantage of lower pricing with the signing of the new contract rather than have to wait until the current contract ends, don't have to plan a conversion, no customer impact and utilize new products that you might not have had an opportunity to take advantage of before.
Jake Aleman is a Practice Director at CCG Catalyst. Follow CCG Catalyst on Twitter and LinkedIn.