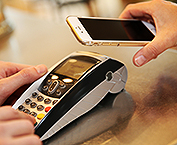 Using a mobile phone to pay for a purchase at the point-of-sale is not a common occurrence in the U.S. yet. However, as more people upgrade to smartphones with built-in mobile wallets and as merchants' acceptance of mobile payment technology grows, the number and total value of such payments will continue to record large gains through 2020.
That is the prediction of eMarketer, which expects the total value of U.S. proximity mobile payment transactions to total $27.67 billion in 2016, an increase of 183.3% over 2015. Next year, transaction value projects to more than double again to $62.49 billion with transaction value exceeding $314 billion in 2020.
Despite recent gains, the value and number of users of proximity mobile payments will nevertheless lag behind other mobile commerce metrics including retail mcommerce sales, mobile travel sales and the number of mobile buyers and mobile travel bookers.
By 2020, however, mobile payments will be a much bigger part of the overall mobile commerce picture. The transaction total for proximity mobile payments, which, per eMarketer's definition, exclude purchases made using tablets, will exceed both retail mcommerce sales made on smartphones and mobile travel sales.
Even with sustained double-digit growth in U.S. retail ecommerce sales over the next several years, close to 90% of U.S. retail sales will still occur in physical stores in 2020. Shoppers swapping cash and card for the tap of a phone while in-store will help lift proximity mobile payment transactions.
Meanwhile, Cardtek, a payments technologies provider collaborated with NXP Semiconductors to introduce a payments system for wearables called the Digital Enablement Platform.
Cartel said in a press release that its platform enables consumers to make safer and simpler transactions with a convenient wearables product, easily on-boarding payment cards, transit tickets, access cards and more, according to the announcement.
Cardtek's payment system infrastructure, integrating NXP PN66T and P60 wearable chips, is intended to help issuers, wearable OEMs and other service providers enable payment and nonpayment services in wearables, as well as activation and deactivation of services.
In other card developments:
Credit card lending to subprime borrowers is starting to misfire. Missed payments on credit cards that lenders issued recently are higher than on older cards, according to new data from credit bureau TransUnion. Nearly 3% of outstanding balances on credit cards issued in 2015 were at least 90 days behind on payments, six months after originated. That compares with 2.2% for cards given out in 2014 and 1.5% for cards in 2013. The recent increase in subprime lending is one of the big contributors.
The amount of debit cards is growing at a faster rate than that of credit cards, according to a new study from RBR's Global Payment Cards Data and Forecasts to 2021 stud. Debit cards now represent 70% of payment cards globally, a 2% increase from 2014. Credit cards are declining. Emerging markets will lead the debit card charge. With two billion people still unbanked, a massive portion of the global population lacks access to banking services. As a result, financial institutions are already starting to move into regions with large un- or underbanked population in an attempt to capitalize those markets.
CCG Catalyst can help with innovative and transformative strategies for your Payments business.
Learn more about bank customer's behavior with mobile wallets, with Project Catalyst's study, The Age of Mobile Wallets, available for purchase.
CCG Catalyst is a leading management consulting firm connecting bank strategy to innovation, transformation, and disruption. We advise our clients on the direction of banking, development of the strategy and managing the disruption related to the execution of the tactics. CCG Catalyst leverages decades of deep industry experience to provide practical business strategies and organization, analytics, and technology consulting for our clients.