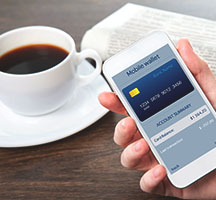 The mobile revolution might be in full swing but 87% of banking and finance leaders reported abandoning an app due to poor performance, according to a study.
The survey, "The App Dilemma: Meeting the High Expectations of Business," gauged the state of enterprise application investment and adoption among financial institutions with a focus on barriers to widespread adoption and the choice between in-house versus third-party app development.
Conducted over a four-week period by Wakefield Research for Kony, the survey also revealed 99% of financial institutions believe they would benefit from specific types of mobile apps; and 62% agreed their businesses could use specific types of apps including mobile banking apps.
The survey targeted 1,000 business executives at companies with 1,000-plus employees across industries – including 191 respondents in banking/finance. Most respondents were in the U.S., along with respondents from 17 other countries: Australia, Austria, Denmark, Finland, France, Germany, India, Indonesia, Italy, Japan, Netherlands, Norway, Saudi Arabia, South Africa, Spain, Sweden, and UK.
Since the 2008 financial crisis, banks have closed more than 10,000 branches, according to the report. In the first half of 2017 alone, a net of 869 brick-and-mortar entities shut their doors, according to S&P Global Market Intelligence.
"Simultaneously, consumers have increasingly turned to mobile apps to streamline their day-to-day lives in areas from shopping and socializing to fundamental life management activities such as managing their financial accounts," the survey stated. "The juxtaposition of these trends spotlights a unique challenge for banking and finance institutions – how to keep up with the pace and demand of customer expectations despite decreasing opportunities for face-to-face interactions while working to stay competitive and retain customers."
Financial institutions know that mobile apps play a critical role in this new era of customer engagement. However, providing mobile apps in the financial sector must involve several rounds of due diligence to ensure apps meet the requirements expected of any financial institution.
Other key survey findings:
More than 40% of those that managed mobile app development internally cited concerns over security vulnerabilities as a reason preventing their companies from developing mobile apps in-house, mirroring the fact that security is a top concern for banking customers.
Of those banking and finance respondents whose companies developed apps in-house, many (62%) revealed their dissatisfaction with how the IT department managed the user experience of the mobile apps.
Eighty-seven percent of banking and finance leaders reported abandoning an app due to poor performance (37%) and lack of user adoption (34%). They also recognized the need to refresh mobile apps to keep up with changing customer expectations.
Respondents cited lack of app customization options (35%) as one of the challenges with using external app developers. Subsequently, 94% felt that third-party produced applications don't meet their expectations.
Another report, Citibank's first mobile banking found the average consumer uses mobile banking an average of seven days per month (more than 10 days per month for millennials).
Eighty-eight percent of consumers are mobile banking at home — on the sofa, in bed, and in the bathroom — while 44% are interacting at work. Thirty-one percent of millennials mobile bank when socializing, according to a press release.
The study revealed that those consumers surveyed believed they were more aware of their finances because of mobile banking.
Americans who mobile bank weekly or more are more aware of their financial standing (71%) than those who mobile bank less than weekly (49%). Mobile banking users are very confident (65%) they know the exact balance of their bank account, compared to just 53% of non-mobile bank users.
For more on the use of mobile banking get CCG Catalyst's Project Catalyst study: The Age of Mobile Wallets.