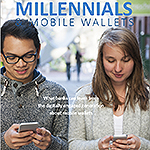 Bank customer acquisition and retention strategies are at the core of the latest report by Project Catalyst. The millennial and mobile wallet study gathers perceptions, behaviors, and attitudes of this cohort, which represents 75.3 million people born from 1982 to 2000.
The results from this study seeks to answer three strategic questions:
Why millennials are an important segment to banks?
What features will help millennials adopt a bank mobile wallet?
What is the comparison between millennials and non-millennial in their banking and technology adoption?
Millennials have grown up with digital, and it is no surprise that 93.9% of millennial respondents have a smartphone, according to the Project Catalyst survey. They rely on their phones heavily and use technology in ways that enhance their everyday lives. This generation also wants to digitize all commerce through their mobile device.
As mobile-wallet acceptance by millennials and non-millennial increases, retailers have an important role in creating confidence in its usage. Currently there is much fragmentation in the type of wallet acceptance by retailers, and as a result, the customer experience is often confusing.
There is a challenge for financial institutions as well. When asked their preference for a mobile wallet, millennials are more inclined to prefer non-financial institutions' offering for an m-wallet. The four brands millennials would trust for a mobile wallet include Google Wallet (46%), Apple Pay (38.7%), Visa Wallet (33.8%), and Android Pay (29.9%).
If a bank were to offer customers a bank branded mobile wallet, banks will be competing with these other mobile wallet providers. Banks will have to put a bigger effort into marketing, and adding desired features to mobile wallets, to lower the barriers to entice usage and build trust with millennials.
Millennials and Mobile Wallets study is available for  $495.  Or the download the abstract.