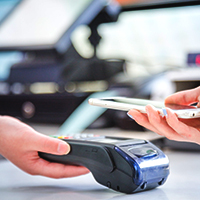 Almost 80% of merchants actively support the mobile channel overall with credit and debit cards the preferred payment method while mobile wallets are still slow to adopt.
Boise, Idaho-based fraud-detection firm Kount's 2017 Mobile Payments & Fraud Survey, conducted in association with CardNotPresent.com, Braintree, a PayPal company, and The Fraud Practice, measured the state of mobile payments. The fifth annual report surveyed more than 800 merchants from 29 vertical industries and ranging from under $5 million to more than $500 million in revenue from April 2017 to June 2017.
One of the primary goals of the survey was to assess various merchants' current level of support and sales for the mobile channel. While 78% percent of merchants who actively support the mobile channel is down slightly from last year, higher revenue merchants tend to be more likely to actively support the mobile channel. Whereas 85% percent of merchants with annual revenues greater than $250 million actively supported the mobile channel in this year's survey, just a third of merchants with annual revenues of less than $5 million say the same.
Since the initial Mobile Payments and Fraud Survey, merchants nearly doubled their mobile payments options online and in-person: the percentage of merchants who support a mobile app for online shopping more than doubled from 21% in 2013 to 44% in 2017; the acceptance of mobile payments at the point-of-sale increased from 15% to 29%; mobile apps supporting in-store shopping experiences nearly almost tripled from 5% to 13%.
Support for the mobile channel extended across all vertical markets or merchant segments. In 21 out of 27 merchant segments, at least three-quarters of merchants actively supported the mobile channel, while there were 25 different vertical markets where at least two-thirds of merchants were active in the mobile channel. The Insurance, Money Movement/Transfer and Telecom categories were the most likely to indicate they had no plans to support the mobile channel. The verticals showing the highest active support: dating/social 100%; travel services 89%; alcohol/tobacco 88%; food/drug 88%; and gaming 88%. Financial Services showed 73% active support.
Regardless of the influx of new mobile wallet options, merchants have been slow to adopt the payment method (with only 22% of merchants accepting mobile wallets) – perhaps because most merchants (70%) anticipate consumer mass adoption of these mobile wallets still two to five years away.
Those that do accept in-store mobile wallets prefer PayPal (48%), Apple Pay (48%), and Android Pay (38%), respectively.
Top mobile-only payment methods accepted from mobile devices include: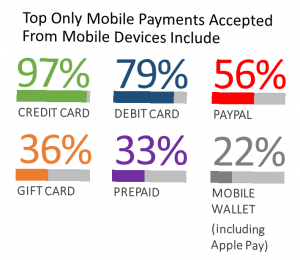 Credit card: 97%
Debit card: 79%
PayPal: 56%
Gift card: 36%
Prepaid card: 33%
Mobile Wallet (including Apple Pay): 22%
Other payment findings: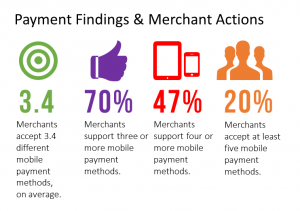 Merchants accept 3.4 different mobile payment methods, on average.
Nearly 70% of merchants support three or more mobile payment methods.
Forty-seven percent of merchants support four or more mobile payment methods.
Twenty percent of merchants accept at least five mobile payment methods.
The survey also revealed only a small fraction of merchants (8%) believe mobile channels are far riskier than traditional e-commerce, down from 14% last year. Merchants also remain fairly trusting of mobile wallets, with more believing that fraud will decrease rather than increase as consumers adopt mobile wallets more widely (37% vs. 29%, respectively).
Just 30% of merchants overall revealed a concern with finding anti-fraud solutions that prevent fraud in the mobile channel. This was a major concern for at least 40% of merchants in the sporting goods, food/drug, office supplies, flowers/gifts, professional services and financial services merchant segments.