During H1 2016, industry revolving balances expanded $22.9B at an average annual growth rate of 4.9% to reach $960.8B.
Balances at Top Issuers increased by $11.2B at an average annual growth rate of 3.7%. Significant share shifts in the 2015 – 2016 period included JetBlue (Amex to Barclays) and Costco (Amex to Citi).
Average Annual Growth in Credit Card Receivables (12/2015 – 06/2016)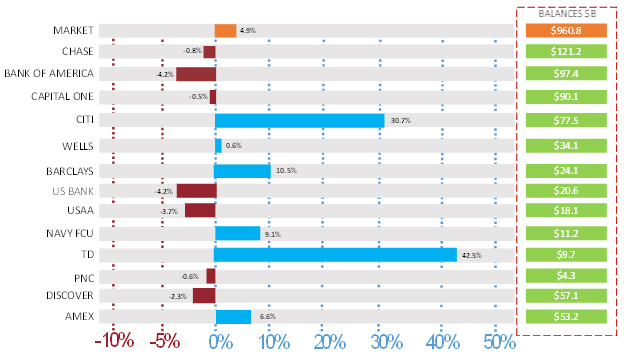 Source: SNL Financial, Federal Reserve Bank, company reports, CCG Catalyst Consulting Group analysis
(1)  Top Visa / Mastercard credit card issuers as ranked by The Nilson Report for 2015, American Express and Discover (2) Synchrony excluded due to lack of comparative year over year data for bankcard portfolio (3) TD balances include retail and private label (4) Card balances for Citi branded cards, NA – includes Costco portfolio (5) Amex balances reflect adjustment for JetBlue and Costco portfolio transfers
Chart available for download on CCG Catalyst Resources.