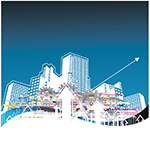 During 2010 – 2015, revolving credit balances have improved steadily growing from $839.4B in 2010 to $937.9B in 2015 representing an average annualized growth rate of 2.3%. Growth accelerated in 2015 with balances increasing 5.2% and the positive trend is holding with YTD May 2016 balances at $953.3B.
CCG Catalyst analyzed receivables growth of top credit card issuers during this period to evaluate competitive positioning and performance relative to the market. We looked at the top Visa / MasterCard issuers, as well as American Express and Discover. The findings reflect different strategic priorities for issuers.  The Top 3 Visa / MasterCard credit card issuers have rationalized their portfolios, while others like Capital One and TD have used acquisitions to drive meaningful growth and scale.  Barclays has taken a strong position in partnership marketing and others have made smart investments in organic growth.
For a full copy of the report, click here.
Join CCG Catalyst for: