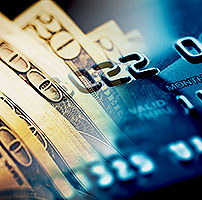 Americans with annual household income under $30,000 and a checking account pay an average of $31 per month in bank fees, according to a Bankrate.com and MONEY survey.
That's more than three times as much as the $9 typically paid by other income brackets (these figures include routine service charges, ATM fees, and overdraft fees).
Another shocker, just 59% of U.S. adults with household income under $30,000 per year even have a checking account (compared with 83% of all others).
Bankrate.com recently reported that the average out-of-network ATM withdrawal costs $4.69 and the average overdraft fee is $33.38. Just 38% of financial institutions offer free checking accounts to all customers. The rest typically charge a monthly fee (often $12), waived under specific conditions. But these stipulations can be problematic for low-income households (the most common are direct deposit and keeping at least $1,500 in the account).
While 63% of checking account holders avoid bank fees, one-third of those who pay fees cough up at least $26 per month, and they're disproportionately from households with lower income and education levels. A CFPB study found 9% of accountholders overdraft 10+ times per year; they shoulder 79% of banks' total non-sufficient funds fees.
The average checking account holder has been using that same account for about 16 years. Members of the Silent Generation have held onto their accounts for the longest (30 years, on average), and Baby Boomers aren't too far behind (21 years). Older millennials (27-36-year-olds) have been using the same checking account for an average of approximately 8½ years.
The survey, conducted by Princeton Survey Research Associates International, found the most popular reason for choosing a financial institution in the first place is a convenient branch or ATM locations. The most common reason to stick with a financial institution is its customer service.
Bankrate.com gathered checking and savings account data from 75 brick-and-mortar banks, 50 credit unions, and 15 online banks. That included more than 800 accounts and 18,000 data points. Criteria included monthly service fees, interest rates, ATM/branch access, ATM fees, minimum deposit/balance requirements, and mobile app ratings.
Another Bankrate study found ATM fees hit a record high for the 11th year in a row. The average total cost of an out-of-network ATM withdrawal is now $4.69, up 2.6% from $4.57 last year. In fact, ATM fees are up 55% over the past decade.
Consumers must typically pay two different fees when using an out-of-network ATM: the surcharge assessed by the ATM owner on a noncustomer and the fee charged by the accountholder's own bank for using another bank's ATM. The average ATM surcharge hit a new record for the 13th year in a row, rising to $2.97 from $2.90 last year. The average fee charged by a consumer's own bank for going outside the ATM network increased 3.0 percent to $1.72, also a new high.
ATM fees are not the only unexpected fees consumers encounter. After seeing a slight dip in 2016, the average overdraft fee has bounced back to a new high of $33.38, up from $33.04 last year. The most common fee is $35, and the number of banks that increased their fee outnumbered those who lowered it by 7 to 1.
Consumers in Pittsburgh pay the highest average out-of-network ATM fee of all the top 25 major metro areas ($5.19), while those in Dallas have the lowest ($4.07). Patrons in Philadelphia bear the highest average overdraft fee ($35.30), compared to San Francisco whose overdraft fees are the most lenient ($31.44 on average).
The survey group consisted of a total of 10 banks and thrifts in each of 25 large U.S. markets; 1 interest and 1 non-interest account, as well as their associated ATM and debit card fee policies.
---
Check-out CCG Catalyst Research Library for resources you can use for your bank.