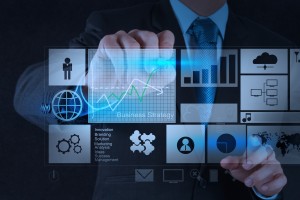 Social media plays an increasingly important role in bank strategic marketing efforts. A combination of social media and analytics may someday provide predictive insights about trends and consumers, but siloed data remains an issue for financial institutions.
Banks and credit unions, like most businesses, still struggle to anticipate what their most prized customers will do next. By using social media, organizations can create brand discussions and gain customer tendencies and interests.
Social media listening platforms allow enterprises to follow Web discussions on topics of interest. These tools allow organizations to eavesdrop on what people are talking about on sites like Facebook, Twitter, LinkedIn, as well as in blog posts, reviews and comment sections on the Internet. It is an extremely valuable data set.
Financial institutions can also ponder engaging in social listening by monitoring reactions to web content and social media posts. Combining social listening with analytics can develop perception and help refine strategy. Used in tandem with analytics, it offers the prospect of interpreting relevant discussions into distinct indicators that will help financial institutions proactively meet customer wishes.
Connected through a bank's customer relationship management (CRM) system would add context to commentary. Predictive analytics could transform social media information into strategic opportunities by allowing financial institutions to make real-time relevant offers triggered by customer's current interest.
However, aggregating data into a unified approach is an obstacle at many financial institutions with siloed information. The struggle is also with how to translate the insights gathered into an action plan and tying information correctly to a specific customer.
Financial institutions often ask accountholders for their email addresses, but maybe they should also begin requesting social media identification for Facebook, Twitter and others. Many struggle with privacy issues, but customers might divulge more information in exchange for more relevant offers and advertising.
Social media also helps promote the brand. Chase Bank, for example, came out on top in a recent analysis by NetBase of brand conversations across social media platforms. The study applied social analytics technology to two full years of brand conversations across social networks, review sites, blogs, forums, and news sites worldwide, between February 2013 and January 2015, and identified the top banking brands in the world.
The technology measured the volume or sentiment of social content, as well as the intensity of passion and feeling.
NetBase points out that social media delivers an unprecedented amount of real-time information about how a business is performing, pinpointing what needs to be addressed to grow or protect the brand.
By tapping social media quickly and more precisely, financial institutions can then use that information to direct effective marketing strategies.
Paul Schaus is CEO & President at CCG Catalyst. Follow CCG Catalyst on Twitter and LinkedIn.