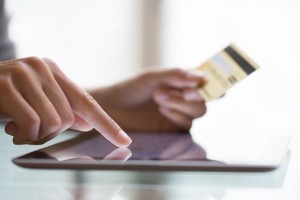 Heightened payments sector activity in public markets
PayPal finally went public reaching a market cap of $45B in the first week of trading. First Data filed for an IPO and the company could be listed as early as this year. The WSJ estimates the IPO value at about $40B including debt. Square has also reportedly filed confidentially to explore an IPO which according to industry analysts could take place this year. The PayPal spin has been a long time coming and there is tremendous market expectation related to PayPal's direction as a public company – the populist view is that M&A will be a key focus area as the company expands both functionality and geography.
Visa / MasterCard results underscore strength of payments industry
Visa reported Q3 2015 financial results with adjusted quarterly earnings of $1.8B (an increase of 33% over the prior year) excluding the revaluation of the Visa Europe put option. MasterCard reported Q2 2015 net income of $965MM (excluding a special item) up 4% vs. Q2 2014.Visa's net operating revenue for the quarter was $3.5B while MasterCard's net revenue was $2.4B. Combined, Visa / MasterCard handled almost 42B transactions worldwide. U.S. performance was strong with Visa's total quarterly purchase volume growth coming in at 7.9% in constant dollar terms and MasterCard at 7.1% with both networks reporting good gains in credit. As we have maintained, the payments industry is large, high growth and profitable. Banks that have prioritized payments are seeing this reflected in their P&L.
Investment capital continues to flow to new payments players
Stripe announced new funding valuing the company at $5B as well as a partnership with Visa. Stripe / Visa will be working on digital payments and "buy" buttons. ShopKeep raised $60MM in Series D funding bringing its total funding to date to $97MM. Shopkeep works with 18,000 businesses and processed over $6B in payments over the last year. Both Stripe and Shopkeep represent good examples of fintech companies that have identified profitable (but under leveraged) market niches and then exploited them successfully while creating value that goes beyond core offerings.
Accelerators, Innovation labs and Venture arms – a strategic necessity
Wells Fargo has established an Innovation Group that will work across the enterprise and focus on five core areas: R&D, innovation strategies, payment strategies, design and delivery, and analytics. This is a solid complement to its Startup Accelerator that works on mentoring early stage companies. Overseas, National Australia Bank has created an "innovation fund" and plans to invest $50MM over three years in domestic and international startups. We are increasingly witnessing large money center banks in the U.S. and abroad make investments in accelerators, innovation labs and venture arms yet at the same time we see limited attention to fintech disruption from smaller banks.
Interesting developments in biometric authentication
MasterCard is testing facial recognition software for online purchases, and in the Netherlands ING Bank is introducing voice activated payments as an extension of its mobile banking app. While passwords and PINs are not expected to disappear overnight, biometrics present both security and convenience advantages in an increasingly digital ecosystem. All things being equal, this supports a world of personalization, secure identity management and preferences across devices, channels and media.
Mobile payments march on
Apple launched Apple Pay in the U.K., the first country outside the U.S.   The service was supported at launch by seven banks and 250,000 merchant locations as well as Braintree merchants for in app purchases. In perhaps surprising news, given MCX had all but disappeared off the radar, Bloomberg Business reported that MCX is getting ready to launch its mobile payments app CurrentC sometime in Q3. We'll continue to track this space as we expect Apple Pay to push out internationally (Canada, Australia near-term) and see several interesting new developments domestically. We like mobile payments and see them as a new customer engagement platform. But, it needs to be more than just payments.
"Buy" buttons becoming popular
American Express launched Amex Express Checkout and Google is testing a new feature Purchase on Google. And, the recent Stripe / Visa partnership will include "Buy" buttons among other payments initiatives. With networks now joining social media companies in driving "frictionless" payments we think this is a step forward in providing an enhanced and intuitive customer experience while powering digital commerce.
Ali Raza is a Principal and Payments lead at CCG Catalyst. Follow CCG Catalyst on Twitter and LinkedIn.