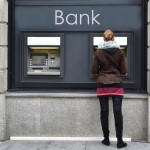 Consumers still prefer visiting brick and mortar branches for their financial transactions, according to studies from CO-OP Financial Services and U.S. Bank.
"Branches are not going to go away, but they are changing," Sarah Canepa Bang, chief strategy officer for CO-OP Shared Branching, said. "The modern consumer wants it all – mobile, online and branches – and they expect all access points to work together in a single, harmonious, delightful user experience."
According to some experts, branches of the future will be smaller, streamlined to accommodate live lending services and equipped with self-service video kiosks (interactive teller machines) for all kinds of transactions.
Tablet-equipped employees untethered from teller lines can roam to help members in branches and even out into the community where new members exist.
Making deposits, withdrawals, transfers, and account inquiries at a real branch is still essential for a majority of Americans, according to a U.S. Bank survey. Some findings from the survey include:
Sixty-three percent of respondents indicate they will never make all of their financial transactions digitally.
Eighty percent prefer working with an actual banker/teller instead of a virtual one.
Eighty-six percent plan to do business in actual branches during the next five years.
The U.S. Bank data supports the findings of similar studies conducted by CO-OP Financial Services, which manages CO-OP Shared Branching, a nationwide network of 5,400 branches dedicated to serving members of 1,800 participating credit unions.
Bang pointed out that other research, such as the J.D. Power U.S. Retail Banking Satisfaction Study, found that younger consumers are among the most frequent users of branches. These consumers have discovered credit union branches are great sources for personal financial counseling, she added.
Contrary to common belief about their use of non-banking channels, millennials still expect to see traditional institutions at the center of their financial picture, per CCG Catalyst Pro Group survey respondents. Fifty-nine percent banks at a bank, 11% at a credit union, and 19% at both. Less than 4% use online banking only. Yet, less than half have checkbooks, and 42% either do not have a checkbook or have one that they have never used.
Similarly the total volume of account-to-account money transfers reached $938 billion in 2015, and it turns out consumers are more comfortable with online transfers via desktop or laptop than mobile transactions at this time
Those are two of the results revealed in the report "P2P Payments in 2015" from the Pleasanton, Calif.-based Javelin Strategy & Research. The report also described how the market continues to grow and evolve as new technologies, vendors and capabilities provide consumers with a range of payment options.
While much hype surrounds the mobile P2P services offered by companies such as Venmo and Facebook, money transmitters such as Western Union and Money Gram are generating enough annual volume to demonstrate a strong consumer need for the service as well. Consumers sent $139.21 billion in P2P payments from financial institutions and another $30.8 billion from money transmitter services.
In addition, the average transaction dollar value of a financial institution-provided P2P service totals $227, compared to $130 for services not provided by a financial institution.
While many consumers think digitization of the payments ecosystem will drive the financial services industry in a new direction that does not mean they are willing to give nontraditional mobile wallet/payment providers an opportunity just yet, per our CCG Catalyst Pro Group survey. More than half of our respondents (51%) are likely to use their primary bank's mobile wallet; and 59% desired their primary bank's products, debit, or credit card, as a desired wallet feature.