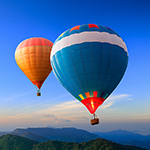 Interest Rates Will Rise Again. It's going to happen.  Sooner or later, it's going to happen.
For almost three years now, I've been travelling around the country telling bankers that rates are going to rise.  I saw, as did many industry pundits, a recovering economy hit most of the targets established by Federal Reserve Chairman Janet Yellen as prerequisites before considering a rate change.  The fed funds rate, upon which loan and deposit rates are based, had been so low for so long that it has changed banking in fundamental ways.  To compete in this unprecedented rate environment, banks dramatically altered many of their traditional practices in funding, investment, and product design.  I don't know if I have been Paul Revere or Cassandra of Greek mythology, but rates are going to rise.  It's going to happen.
The fed funds rate (once nearly 20% in the late 1970s) plummeted to zero or near zero following the 2008 crash.  While necessary to stimulate the economy during the Great Recession, rates that low struck a blow to the heart of bank profitability; net interest income.  Promising some relief to interest rate margins, the Fed began to increase the fed funds rate late last year, but by only 25 basis points under an abundance of caution, intending to slowly increase it further through 2016.  But, economic conditions this year – particularly the uncertainty caused by Brexit – have stalled future rate increases.
Banks – challenged to maintain return to shareholders in spite of reduced margins – are relying on other components of profitability.  The emphasis on reducing non-interest expense, increasing non-interest income, improving risk management, and growing the customer base has never been more acute.  Banking, like all industries, is a cake-and-eat-it-too business when it comes to performance metrics, so don't expect a reduced emphasis on fees and costs as margins begin to improve.  To continue their success, banks will redouble their focus on both good-old-fashioned rate competition and continue to innovate to meet the new realities of financial services.  Changes in technology and the growing influence of Millennials over the past seven years makes it a whole new game.
Some banks have taken steps to retool in preparation for a rising rate environment; they would be well-advised to continue that effort.  Enhancing partnerships with service providers and technology vendors can extend the resources available to ramp up for the coming challenges.  New lending markets, for example, will again be fertile ground for productive use of core deposits.  Asset liability management will have to be managed more aggressively from both a liquidity perspective and a cost-of-funds basis as rates return to periodic fluctuation.  Continued efficiency measures will need to be employed as growth threatens the progress we've made in containing costs.  A greater emphasis on technology and Big Data is required to attract and retain millennials and customers from other market segments.  And, closer collaboration with partners will absolutely be required to compete with non-bank disruptors entering the market.
An ancient Chinese curse invokes "May you live in interesting times".  A return to a rising rate environment will certainly makes things interesting. Sooner or later, it's going to happen.
CCG Catalyst is a leading management consulting firm connecting bank strategy to innovation, transformation, and disruption. We advise our clients on the direction of banking, development of the strategy and managing the disruption related to the execution of the tactics. CCG Catalyst leverages decades of deep industry experience to provide practical business strategies and organization, analytics, and technology consulting for our clients.