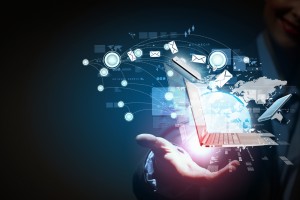 In what should be an inherent strength, financial institutions are facing enormous pressure to learn new methods to attain customers, cultivate existing relationships, and generate income.
With the right architecture and approach, financial institutions can easily integrate their multiple banking channels resulting in a true omnichannel environment with improved customer experience, convenience, satisfaction and engagement.
However these days it is not easy determining what is the right customer experience.
Over the last ten years, Washington, D.C-based Gallup observed a growing race among brands to implement better customer experience platforms. These systems analyze how companies manage and resolve consumer problems and offer insights to improve the customer engagement.
This technology also enables financial institutions to accumulate enormous data about customer experiences at each interaction – online or offline, mobile or social, or in person.  While many organizations purchase these systems hoping to enhance the customer experience, Gallup found that gathering information is not enough.
That is because there is no device to gauge how emotions and memories sway customer activities. To completely connect with customers and attain lasting growth, financial institutions must bond with customers emotionally. By combining quantitative measurement with qualitative research and analysis, organizations can find out which customer touch points hold the most emotional meaning and which are the most apt to build customer engagement.
Gallup behavioral economic research indicates that recollections matter more than genuine experiences when it comes to forecasting customer behavior and wallet share. For example, fully engaged retail banking customers bring 37% more annual revenue to their primary bank than actively disengaged customers. Fully engaged customers also represent a 23% premium in terms of wallet share, profitability, revenue and relationship growth over the average customer.
Franklin, Mass. based Saylent Technologies also commissioned a study to assess consumer and small-business banking preferences and the depth of relationships they have with their financial institutions.
The study found, for example, that 56% of Millennials would switch from their current bank to one that offered an account that didn't automatically pay overdraft items for a fee. This suggests that Millennials want to manage their funds, and offering a product that doesn't include overdraft fees can be a point of disconnect. In addition, Millennials were three times as likely to identify mobile as their preferred channel.
In the business banking space over 70% of the study's business clients began their financial institution relationship based on a loan or line product. However, 71% would consider switching to a bank that helped them save time and money.
When financial institutions employ their data to really comprehend their customers and what motivates them, they're best equipped to deliver solutions that drive customer satisfaction, strengthen loyalty, account growth and facilitate institutions to achieve profitability.
The Economist suggested omnichannel is a strategy that allows consumers to "shop with smartphones, tablets, laptops and even in stores as if waited upon by a single salesman with an unfailing memory and uncanny intuition about their preferences." Financial institution need to fully understand current interactions to improve future customer engagement.
Paul Schaus is CEO & President at CCG Catalyst. Follow CCG Catalyst on Twitter and LinkedIn