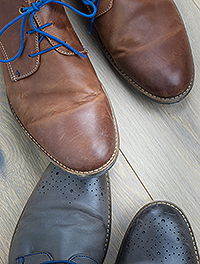 Many financial organizations risk falling behind as technology continues to transform financial services and transactions. Financial institutions are at a tremendous risk from disruption but some are moving to embrace fintech firms, according to a new PricewaterhouseCoopers report.
The report, based on a survey of more than 1,300 senior executives in the financial services and financial technology sectors across 71 countries, found that more than 80% of traditional financial institutions believe that at least a portion of their business is at risk. On average, executives fear, they could lose up to 24% of their business this year to startups.
PwC DeNovo, the consulting firm's fintech arm, estimates 30% of consumers plan to increase their use of nontraditional financial service providers and only 39% percent said will definitely stick with established firms.
In North America, the percentage of C-suite level executives who worry about disruption rose to 82% in the latest survey from 69% a year ago. In response to the threat, 75% of incumbent institutions are increasing their core efforts to innovate and 56% said they have "put disruption at the heart of their strategy," increasing investment in innovation and partnering with fintech firms to reduce costs and improve services.
Funding of startups in the sector increased at a compound annual growth rate of 40% over the last four years, representing a collective $40 billion investment. That outlay is progressively coming from mainstream businesses – including many recognized financial firms – instead of venture capital.
Rather than compete, multiple financial organizations decided to partner and invest in their disruptors. Forty-five percent in the PwC survey said they are collaborating with fintech companies, up from 32% last year. Eighty-two percent report they are ready to collaborate with or invest in fintech companies over the next three to five years.
Europe is leading the way with more than 65 percent of respondents from Germany, Belgium, and the Netherlands reporting they are already partnering with fintech firms. The U.S. is in 12th place at 53%.
P. Morgan Chase & Co., for example, collaborated with online lender On Deck Capital Inc. to improve loan processing for its small business customers. Cardlytics, Inc. has signed up more than 1,500 financial institutions to use its digital advertising platform.
German-based Deutsche Bank recently opened an innovation lab in New York City, its fourth globally. The lab will enable the bank to access an innovation environment in one of the world's largest financial centers. It will explore new technologies focused on several areas, including artificial intelligence, cloud technology, and cybersecurity. The initiative originally launched in Berlin, London, and Silicon Valley, provides startups with support and a place to assemble with the hope their technological breakthroughs would help Deutsche Bank navigate future technology.
A partnership between the New York City-based GrowthFountain, an equity crowdfunding platform, and the $7.6 billion, Marlborough, Mass.-based Digital Federal Credit Union enables entrepreneurs to raise capital and members to invest.
Crowdfunding is the practice of funding a project or venture by raising small amounts of money from a large number of people, typically via the internet.
DCU's kinship with the fintech startup community takes place regularly at the DCU FinTech Innovation Center, a dedicated resource providing seed-stage fintech startups with everything they need for success: Mentorship, a workspace, a professional network and community.