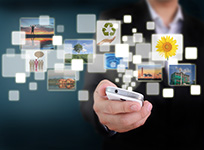 Earlier this week, I had the pleasure of moderating the Payments and FinTech panel at PayThink 2016 and talking with a group of senior banking and payments leaders.  Attending the panel discussion were: Adrian Martinez, SVP and Head of Transaction Products & Services at HSBC (USA), AnaLiza Grandner, SVP and Director of Private Label Banking Services at The Bancorp, Brent DeLeo, SVP and Card Products Technology Executive at Bank of America, Corey Glaze, Senior Sales Engineer at BitPay, and Patrice Peyret, CEO and co-founder at Banking Up.
Key Takeaways:
The FinTech sector will see more partnerships and alliances with banks and payments providers. Increasingly, it will be about collaborative partnerships and innovative value creation that benefits mutual customers. Several panelists noted the importance of staying focused on customer requirements and expectations.
There continues to be significant opportunity and upside to improve the payments experience, drive greater efficiency, and enhance security for the ecosystem. On the other hand, there is increasing complexity (and possible consumer confusion) given growth in payment forms and form factors, wallets and apps; e.g. third party PAYs, bank wallets, and merchant apps. There is only so much real estate on the phone and at what point do consumers start facing payment app fatigue?
Bitcoin is attractive for certain consumer segments due to speculative or other reasons but utility has been constrained given limited merchant acceptance – global branded cards that access a Bitcoin wallet and allow for spend in fiat currencies are growing and hold promise. Broader adoption of Bitcoin (and blockchain) is being held back by an unclear regulatory regime. Additionally, rules, standards, and governance frameworks need to be established.
There will be an increase in schemes, payments and payment types, and more fragmentation before consolidation of devices, channels, and form factors.
Longer term, the payments and commerce landscape will fundamentally change and look very different. Real-time payments will serve as an important catalyst, the "API economy" as well as new partnership models and networks will re-shape value exchange, and the increasing realization of monetizing customer engagement effectively will lead to new technology solutions.
All panelists were unanimous in their conclusion that the payments business of the future will be very different.
Ali Raza is a Principal and Payments lead at CCG Catalyst. Follow CCG Catalyst on Twitter and LinkedIn.