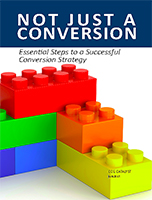 Core conversions are messy and tricky! For banks, the conversion process can be like walking a tightrope between success and failure. Strategy and planning are essential to ensure the bank's business routine and customer banking habits are not interrupted.  In our recent white paper, we identified three essentials steps to take in "Not Just a Conversion", with the emphasis on best practices to prepare and guide banks in their core conversion process.
CCG Catalyst managed hundreds of conversions project, our proven approach provides a smooth experience. This paper reveals the three steps essential to successful conversion strategy and process:
Preparation Strategy
Key People Involved
The Process
Just one more things, ask around, CCG Catalyst has a great reputation for helping banks convert from one core system to another banking system, on time and on budget; and bringing peace of mind to banks, the board of directors and bank customers.
We can help. Check out our services:
Let's schedule a call!
In the interim, download Not Just a Conversion!