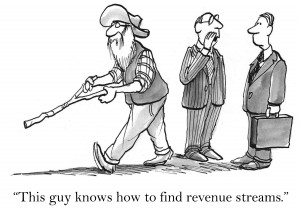 In the current climate of low-interest rates and increased competition, banks should be constantly looking for additional revenue streams. We are certain that presidents or CFOs can adequately identify their most profitable clients (if not, they certainly should!!!). However, has anyone had a conversation about customers requiring additional resources to ensure compliance with BSA recordkeeping requirements?
BSA Officers are well aware that compliance is just a cost of doing business and not normally identified as a source of revenue. The BSA Officer should be able to tell you which customers require the most oversight due to reporting requirements. Customers such as Money Service Businesses, privately owned ATMs, cash-intensive businesses, "higher" risk customers, and those requiring additional bank services should be identified as a possible revenue source.
Unfortunately, many banks stay away from Money Service Businesses and those customers operating a privately owned ATM due to the increase supervision of activities. Additionally, these customers have a perceived higher risk due to the nature of their businesses. Due to some bank's not allowing these customers access to their products they have had to congregate at probably one bank in town. If you're that one bank in town that has the ability to service these customers, why not take advantage of supply and demand? We are not suggesting levying a tax on a small business but certainly, a fee could be charged to help offset the additional costs of being allowed to bank at your bank.
We recommend to our clients that the BSA Officers meet with the person(s) responsible for identifying profitable customers and see if any of these customers lie within their BSA responsibilities. Customers operating as an MSB, privately owned ATM, or other cash-intensive businesses require additional banking services. Smart businesses are identifying all possible sources of income, are you?
If you liked this post, continue reading other compliance-related Banker in the Know posts: