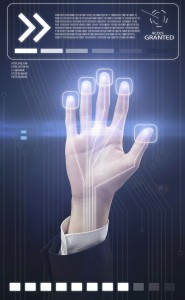 Biometrics no longer belongs to science fiction. It is becoming part of everyday reality including financial services. Industry reports predict bank customers will be using biometrics as the predominant method of identifying themselves to access bank services by the end of the decade.
There are many reasons why financial institutions are turning to biometrics especially with mobile logins.
The most apparent reason is that passwords are extremely ineffective as authenticators. The growing use of mobile devices, with their confined keyboards, has only weakened the security worth of passwords. Smartphone and tablet users are less likely to reuse passwords across multiple logins than the average consumer.
The second reason would be usability – passwords are awkward to use on a mobile device, whereas most biometric solutions are considerably more user-friendly.
And finally, one of the largest impediments to the adoption of mobile banking has been security concerns on the part of consumers.
Australian-based Telstra finds that a majority of U.S. consumers using mobile banking applications want their mobile devices to instantly recognize them via biometrics — such as voice, fingerprint, iris and facial recognition — instead of having to prove who they are with passwords and usernames.
In the era of controversy pitting biometrics against privacy protection, Telstra says that two-thirds of U.S. consumers think that using biometrics would be more secure and help reduce the risks of fraud. One in four U.S. consumers would even consider sharing their DNA with their financial institution, if it meant it would make authentication easier and their financial and personal information more secure.
Some financial institutions already have begun the switch.
For example, the $111 million, Germantown, Md.-based Montgomery County Employees Federal Credit Union was on a mission to simplify its mobile banking platform as well as boost security. Its solution? Introduce biometrics technology, which allows the credit union's iPhone app users to sign-in with a simple touch of a finger. Members of the $4.5 billion, West Jordan, Utah-based Mountain America Credit Union can now log into the credit union's mobile app using biometrics – identification via a finger swipe or unique eye patterns seen through a smartphone's camera – instead of a password.
USAA ($65-billion) rolled out national use of facial and voice biometrics for their mobile app with truly impressive participation. In one month, upwards of 100,000 of USAA's four million mobile users began using the new biometric authentication.
According to a recent report by far the most prevalent modality will be fingerprint recognition using onboard fingerprint readers. It forecast that shipments of onboard fingerprint readers in mobile devices will surpass 1 billion units annually by 2021, representing 34% of all smartphone and tablet shipments worldwide in that year.
Paul Schaus is CEO & President at CCG Catalyst. Follow CCG Catalyst on Twitter and LinkedIn.