Not only for scientific exploration, labs today serve many purposes and utilize a variety of methods to conduct research and experimentation. Taking a cue from the scientific community, when the lab is used for business, brand or product research and experimentation it must provide a clearly defined rigor for the exploration. There is no doubt labs serve a necessity for any business that wants to examine new ways to grow and challenge stagnation. Experiential activities that apply empirical evidence are becoming the norm for a wide variety of industries that are using labs to explore innovation.
The term innovation lab combines the need of experimentation with observation to define a new business direction. The outcome of the innovation lab is a new business direction that will directly impact the brand, operations and technology. Innovation is the natural progression to any business lifecycle. Without innovation the lifecycle of the business stagnates, deteriorates and eventually dies. Banks are no different, but there is very little change in the way banks do the business of banking. The acceleration of technology is creating behavioral change, therefore banks need fresh new thinking to compete with the changes in technology and in society that are affecting business and way deposits, transactions, and lending occurs.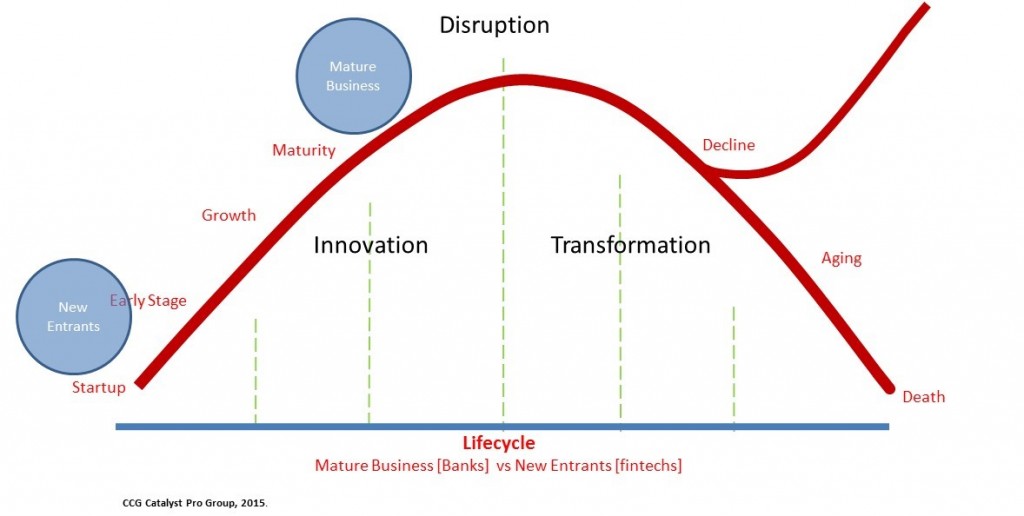 Banks are not immune to the need for change. The core purpose of the lab is to identify ideas for new business models to help banks shift their business. The lab also provides a method to explore and expose banks to new financial technologies, identify new strategic approaches and concepts to the way deposits, transactions and lending happen. Bank executives and board of directors must seek out ways to innovate the business, redefine and transform services and products, and identify disruption – as an opportunity or threat. Most bank executives have little time to invest and devote to making change happen. Most boards are focused on the end game of profits. The risk of taking eyes off the delicate infrastructure of banking is high.
Every bank is different, that means a new framework to redefine the business purpose of the bank, new methods of thinking need to be implemented to shake out old thinking and status quo routines that are typical to the nature of banking executives and boards. Strategic planning needs to replace business planning, and bank strategists need to take a deeper dive into discovering the future for the bank. New strategic questions to why, what and who must be examined, investigated and answered. The future is changing fast because of new technologies, which are anticipating and catering to the needs of business customers and consumers.
Implementing new methods of thinking requires new ways to examine and explore the business of banking, to do so is best by utilizing a lab. The lab's environment must cater to the business of the bank, while taking into consideration the bank's operations and technologies, brand including products and services, customers, consumers and employees. In the lab environment, bank executives can brainstorm new ideas to create the most efficient and thorough banking experiences.
Many of the physical lab spaces are quite expansive and brightly decorated to increase creativity and promote the exchange of ideas between the attendees. The physical lab is set up for easy conversation and collaboration – useful for design thinking. Often, these incredible centers are referred to as "sandboxes" for those who are involved. The testing of new bank products and services in the lab gives banks lower risk to change, while the bank may explore ways of increasing the trust and loyalty of customers and the productivity of employees. Big banks can easily create the lab experience to experiment with new ideas and concepts, but mid-tier, community and regional banks often lack the resources to create their own lab and are stuck inability to innovate. The inability to innovate leads to short-term strategies that only account for 2-3 year stretches and never really able to compete.
Here are some examples of what bank innovations labs are offering:
Big banks and bank associations are also known to partner with well-known technology lab, MIT and brand creator IDEO to help with the transformation process.
MIT CoLab
MIT CoLab and Banco Palmas collaborated to solve problems with underserved and underbanked consumers. MIT CoLab mobilized community assets, promoted social change, increased the engagement of the community and create shared wealth within the urban population.
Lectures, seminars, courses and study groups are available for students in the form of paid and unpaid internship programs. The thoughts and ideas of the younger generation brings new ideas to the table to expand and improve the system.
IDEO
With its unique hands on workshops in a holistic environment, IDEO takes workshops to another level. These large workshop areas provide the space and comfort to proliferate creative thinking and collaboration with other participants. Routines and habits of consumers are explored and prototypes are created to increase functionality and communication between businesses and their clients.
The first lab was opened at Deloitte University in Texas in April 2012 and has since expanded to eight other locations across the U.S. They have also added a number of mobile labs to service more areas in America and in other countries.
IDEO in collaboration with CFS Innovation and JP Morgan Chase offer an engaging experiential lab focused on financial solutions.
Let's take a look at several examples of big bank institutions that providing value by incorporating labs into their business model:
Wells Fargo
The labs developed at Wells Fargo focus on ease of financial access for their customers as well as analyzing their needs and the type of technology they prefer. Prototypes and demos of new products and ideas are designed based on the consumer feedback. Online participation and activity aids in gathering the needed information.
Using the "test and learn" method will provide customers with the best tools to manage their financial needs.
Wells Fargo lab gives Wells Fargo a competitive advantage and ability to foresee its future 5-10 years out.
Deutsche Bank
Companies such as IBM, Microsoft and HCL Technologies are collaborating with Deutsche Bank to develop improved banking systems and discover how to compete with Paypal and maintain their financial marketplace.
Deutsche Bank recently opened three innovation labs in California, London and Berlin and plan to release 50 new products that were conceived by the use of these labs. These new products will focus on security, efficiency, payment procedures and organization. Deutsche is planning on the future of its bank and brand.
Capital One
Capital One collaborates with customers to develop new projects that will solve problems within the current system.  Operating three innovation labs in the United States, located in San Francisco, Washington D.C. and New York City.
The labs feature whiteboard walls from the floor to the ceiling to encourage ideas through simulation. Capital One representatives research current consumer trends and test prototypes to learn how to best serve their customers. Capital One is a consumer centric-bank, by understanding the complex lives of its consumers is will ensure loyalty by providing bank experiences that will cater to their needs.
FinTech
In a completely different approach, FinTech offers a 12 week mentoring program for early and growth stage financial companies.
Also available is the FinTech Hackathon, which is a 24 hour conference where developers, designers and members of the banking world to unite, develop and test new ideas and applications.
Workshops, meetings and discussions with experienced entrepreneurs, investors and senior executives provides valuable input from various ends of the financial spectrum.
Filene Institute of Research
Filene Institute of Research implements Beta and Alpha labs to better serve credit unions and their members.
The beta labs analyze customer data and determine their specific needs. Products and services are then created and put into motion and move forward in the alpha lab.
To help mid-tier community and regional banks compete in this accelerated environment, Catalyst Pro Group offers bank labs to expose bank executives to new business challenges, providing rigor to explore to create new business models. These experiences are provided in low risk environment and solutions are put through intense examination. Catalyst Pro Group explores new fintech opportunities to help mid-tier community and regional banks get exposure to new technology opportunities and effetely compete.
With the variety of banking labs available, bank executives have many choices to learn about new business challenges and develop models that will reinvent the business of banking, and compete or collaborate with fintech companies.
To read more about banking innovation, read Bank Innovation, Not Always Technology.