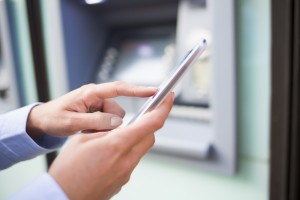 The biggest challenges financial institutions face for achieving ATM and self-service goals are maintaining security, customer engagement, and integration of new or different technologies including mobile applications.
Security is an issue because ATMs on bank property are under severe and intensifying attack by organized criminals. Credit reporting group FICO reported that attacks on ATMs on bank property jumped 174% year-on-year in the first part of 2015. Attacks on non-bank machines jumped 315% in the same period.
Banks lose an estimated $1 billion a year globally through skimming fraud, according to industry experts. Thieves install skimmers, tiny devices on ATMs enabling them to read and steal card and PIN numbers.
ATM maker NCR issued an alert to its customers in July that warned, "NCR is tracking an increasing frequency of card skimming attacks in both the U.S. and in Mexico." An NCR spokesperson said that direct losses globally due to ATM skimming is $3 billion.
Reducing fraud and improving customer engagement, especially with millennials, are behind the increasing utilization of cardless ATMs. Many banks across the country have started to upgrade their machines to dispense cash using a mobile application instead of a debit card.
In Massachusetts Avidia Bank introduced the new cardless ATMs at its eight branches and Salem Five Bancorp launched the technology at its 30 machines.
With the technology, accountholders designate the amount of an ATM withdrawal on their phone using the financial institution's mobile app. In most cases, customers then scan a code received on their phone at the ATM, which dispenses the assigned cash and sends a receipt over the phone.
The technology not only makes ATM transactions faster, but also safer. Without the need for a debit card, banks expect to see a decline in skimming.
Industry analysts believe introducing the latest technology early on can be critical for smaller institutions. It's a way to attract millennials, and other tech-savvy customers, and separate themselves from bigger banks.
A recent survey, The Millennial Disruption Index found that 73% of millennials, defined as 18-to-34-year-olds, were more excited about companies like Apple, Amazon, PayPal, Square or Google offering new financial products than their own nationwide banks.
Ultimately, cardless ATMs are about ensuring the bank provides potential customers with the tools and services they want.
In another recent announcement the Montvale, N.J.-based Debit Network Alliance deployed DNA Shared Debit AID, an application identifier (AID) for chip cards that allows issuers to offer their cardholders non-globally branded debit cards.
According to DNA, which is composed of 10 leading U.S. debit networks, DNA Shared Debit AID allows merchants to select to recognize non-globally branded debit cards at the POS, as well as how they route their transactions. The issuance of non-globally branded debit cards also allows issuers to control costs by lowering transaction fees.
Acquirers, acquirer processors and merchants accepting DNA chip cards must certify ATM and POS terminals by submitting a compliant terminal test report to the DNA for approval.
The founding networks of Debit Network Alliance are AFFN, ATH, CO-OP Financial Services, Jeanie, NETS, NYCE, Presto!, PULSE, SHAZAM and STAR.
Paul Schaus is CEO & President at CCG Catalyst. Follow CCG Catalyst on Twitter and LinkedIn.