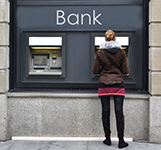 ATM fees set a new record high for the 10th year in a row, with the total cost of using an out-of-network ATM withdrawal rising to $4.57, according to Bankrate.com's 19th annual checking survey.
Consumers typically must deal with two different fees when using an out-of-network ATM: the surcharge assessed by the ATM owner on a noncustomer and the fee charged by the accountholder's own financial institution for using another credit union or bank's ATM.
This year, the average ATM surcharge hit a new record, rising to $2.90 from $2.88 last year. The average fee charged by a consumer's own financial institution for going outside the ATM network increased 1.8% to $1.67.
"With ATM fees now at an average of $4.57, an unplanned stop at the ATM for $20 will cost nearly 23% in fees. A little advanced planning when making withdrawals can add up to big savings for consumers in the long run," Bankrate.com's chief financial analyst Greg McBride, CFA said
While ATM fees continue to rise, consumers are seeing a bit of relief when it comes to overdraft fees. Breaking a streak of 17 consecutive years of new highs, the average overdraft fee dipped slightly to $33.04 from $33.07 last year. The most common overdraft fee is $35. Occurrences of a fee not charged for overdrafts of $10 or less are also increasing, a potential pre-emptive move against any forthcoming rules issued by the Consumer Financial Protection Bureau, McBride noted.
San Francisco has both the lowest average overdraft fees and average out-of-network ATM fees. Philadelphia has the highest average overdraft fees. Phoenix consumers pay the highest average out-of-network ATM fees.
The number of free non-interest checking accounts increased for the first time since 2009, with 38% of non-interest accounts not carrying any monthly fees or balance requirements. Non-interest checking accounts saw declines in the average opening balance ($169), monthly service fee ($5.78), and balance required to avoid the fee ($670). The last time all three declined was 2008.
The percentage of free interest checking accounts increased, with 5.5% of the accounts carrying no monthly fees regardless of balance or activity. Although the average monthly service fee on interest checking accounts was down – slipping half a percent to $15.17, the balance required to avoid fees on interest checking accounts soared over 10% to a new high of $7,037.
A total of 10 banks and thrifts in each of 25 large U.S. markets; one interest and one non-interest account, as well as their associated ATM and debit card fee policies were surveyed from 245 institutions offering checking accounts; 236 interest and 236 non-interest accounts were surveyed between July 14-August 10, 2016.
Meanwhile, Australians' use of ATMs dropped to its lowest level in a decade, and people are withdrawing smaller amounts from them as faster, easier technologies such as tap-and-go payments surge in popularity.
The steady decline of ATMs prompted a warning from finance experts that people's growing disconnection with cash could be dangerous.
The Montvale, N.J.-based Debit Network Alliance announced it has deployed DNA Shared Debit AID, an application identifier (AID) for chip cards that allows issuers to offer their cardholders non-globally branded debit cards.
According to DNA, which is composed of 10 leading U.S. debit networks, DNA Shared Debit AID allows merchants to choose to accept non-globally branded debit cards at the POS, as well as how they route their transactions. The issuance of non-globally branded debit cards allows issuers to control costs by lowering transaction fees.
Acquirers, acquirer processors, and merchants accepting DNA chip cards must certify ATM and POS terminals by submitting a compliant terminal test report to the DNA for approval.
DNA also rolled out a new certification program that allows it to confirm whether EMV chip cards using the DNA Shared Debit AID and their corresponding acceptance terminals comply with DNA requirements.