"A bank is a place that will lend you money if you can prove that you don't need it."— Bob Hope
Asset-Based Lending has always been ostensibly anathema to banks. This is a residue from a period when factoring went through a horrible time. Even though it was a few decades ago, many bankers have long memories. However, the loan market has changed, and asset based lending tools and methods have improved in lowering risk. In addition, the all in, after risk, annualized returns are higher than most commercial lending, based on my time as director of business banking for a $1 billion bank where we had an active A/R based portfolio.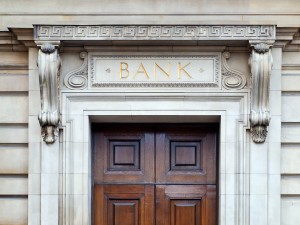 Asset-based lending (ABL) developed in the U.S. more than 30 years ago allows a business to raise working capital secured against current and fixed assets. It creates the potential for a comprehensive loan means, covering receivables, work-in-progress, inventory, plant machinery, real estate, and sometimes intellectual-property as well.
Nevertheless, ABLs gained the reputation from many in the industry as gutter banking and as a lending vehicle to avoid. For the longest time, the stigma extended to companies that used it as well. It was for companies with bad credit, strapped for cash, and incapable of gaining funding from traditional sources.
However, asset-based lending is not shady, expensive, lending of last resort option for companies with bad credit. In fact, some financial institutions believe that ABL is not only a market that they can cultivate, but also something they can develop into their own brand.
Some large financial institutions practically stopped lending due to uncertain earnings and many regional banks teetered due to defaulting real-estate loans. Therefore, struggling businesses turned to asset-based lenders to help restructure their costs and stabilize earnings.
Even as the stream of capital from an extensive range of lenders slowed to a trickle during the financial crisis and subsequent global economic recession, asset based lending remained a feasible type of corporate finance.
ABL found a stronghold overseas, although it was not immediate.
When ABL crossed the Atlantic into the U.K. in the 1990s there was some resistance to its wholesale adoption. U.S. banks such as GE Capital, Bank of America, JPMorgan, and PNC Bank, along with UK providers Burdale Financial and Lloyds tended to fund across the entire variety of current and fixed assets in the U.K.
For many years, the European finance market featured asset based financing but in European countries, receivables, other than in the UK, are the primary asset. In Europe, ABL has primarily been based on purchase of receivables, with other assets seen as add-ons, and funding often quoted as an over advance on debtors.
There are no official statistics on the ABL market for Europe, but there are for the U.K. Figures from the Asset Based Finance Association (ABFA) show that in 2013 ABL facilities represented 18% of the money lent by its members, with the remaining 82% derived from factoring and invoice discounting. While Much of that 18% is weighted towards receivables rather than physical assets, but the figures also show that, within the 'ABL facilities' category, lending on physical assets is increasing swiftly. There has also been some growth in mainland Europe, particularly in Germany and the Netherlands.
Consequently the some U.S. banks believe the market for more aggressively ABL development – a view shared by many non-banks as well.
One U.S. bank that has entered the European ABL market is Wells Fargo. In 2012 it acquired Burdale Financial (from the Bank of Ireland), which already provided ABL. This meant that Burdale was able to fund larger transactions, and it gave Wells Fargo some traction in Europe. In 2014, Burdale Financial was renamed Wells Fargo Capital Finance. As with its other U.S. competitors, many of Wells Fargo's clients are U.S corporates with subsidiaries across the Atlantic, or U.K. corporates with operations spread across Europe.
Some banks now believe this is a market with growth potential in the U.S., and that, within it, they can develop their own brand of ABL, with a more comprehensive concept than often practiced in Europe.
A number of U.S. financial institutions recognize the potential since the ABL market is growing. According to Commercial Finance Association, the total ABL credit line commitments at the end of 2014 were nearly $216 billion, a 6.8% increase over 2013. In addition, the asset-based loans outstanding were almost $90 billion at the end of 2014, 12.3% higher than 2013.
Many banks decided to develop or expand asset-based lending efforts because of the potential yield and "limited risk." Some regional and community banks are trying to diversify their portfolios beyond real estate, believe asset-based lending is an opportunity to do that.
More and more business owners are realizing that their needs do not fit the traditional bank line of credit form. They are turning to asset based lending because it makes good business sense and fits their needs. Asset based lending is a solid, flexible financial option for companies eager to grow their business.
Bank financing is certainly the least expensive source of business capital for a business that possesses the cash flow, collateral and capitalization needed to qualify. Factoring accounts receivable or attracting a venture capitalist or private investor become viable alternatives for businesses looking to raise working capital but are unable to qualify for bank financing.
Banks love collateral. The problem is that most small businesses do not always have many assets to collateralize their loans. There are also some mid-size or larger business that are intellectual property firms, such as marketing companies and consulting firms, who also don't have a piece of real estate or tractor to put up.
Those financial institutions that do not support asset based lending are missing out because there are opportunities to protect itself as well as provide services to those that might be at the edge of their bankability. As a society, we are moving more toward intellectual propriety businesses. So there is a need to find more creative financing, such as asset based lending, that could serve that area.
Many banks are not interested in unsecured lines of credit, which for many businesses is the only option they are considering. Obtaining initial funding with factoring usually takes a week or two. Securing venture capital funding can take up to six months, and the business owner must be willing to share ownership and profits with venture capital partners who will eternally have a say in how they run a business. With factoring, ownership dilution and buyouts are not an issue.
A couple of bad quarters doesn't necessarily indicate that a business is in trouble, but sometimes bankers' hands are tied and they're forced to make financing decisions they might not have a few years ago, before the credit crunch changed the rules.
Though many lending mediums tend to follow economic peaks and valleys, ABL can adapt to changes in the marketplace, whether resulting from economic conditions, new legislation, or the emergence of new industries.
In situations like this, ABL delivers much-needed capital to help businesses survive. Companies with strong accounts receivable and rock-solid creditworthiness tend to be the best candidates for asset-based loans.
With traditional bank loans, the banker is chiefly worried about the borrower's anticipated cash flow, which will deliver the funds for loan recompense. Consequently, bankers pay particularly close attention to the borrower's balance sheet and income statement. Asset-based lenders, on the other hand, are primarily concerned with the collateral's performance whether its machinery, inventory or accounts receivable.
For inventory-backed loans, they typically require regular reports on inventory levels, along with liquidation valuations of the raw and finished stock. For loans backed by accounts receivable, they usually perform detailed analyses of the eligibility of the collateral based on past due, concentrations and quality of the debtor base.
The potential exists for a comprehensive loan strategy, covering different types of collateral. It has become so popular in the U.S. that most companies now raise much of their working capital through this medium. They like the fact that the level of finance can expand as the company expands.
When you look at the receivable and inventory factoring usually there is a shorter time frame involved, typically less than a year. When annualized, they produce enticing returns.
This type of loan does not hit a bank's product sweet spot. In reality, businesses with strong bank relationships can conflict with loan covenants if they suffer short-term losses, sometimes forcing banks to pull the plug on credit lines or decline credit line increases. With ABLs even with losses financial institutions can make a decent return.
Many banks also resist asset based lending because they fear it is a labor intensive job. CFOs hate anything that is labor intensive.  As bad as it is there just wasn't the systems out there are today.
The technology nowadays in robust credit and collections software system mitigates and automates the process. Credit and collections system software can collect on any debit owed to the bank. The systems also track every person, loan, and deposit in addition to following portfolio performance and trending analytics. Plus, the payment system is more electronic, which lowers risk.
We've come a long way on receivable backed lending for sure. There are added costs to managing these loans, but production costs are falling due to good third party support systems and the move toward electronic imaging and payments. There are systems out there that will manage the process and help you underwrite.
These types of loans tend to be rich in a relationship building aspect as well between the financial institution and the lender. In addition to the loans banks gain the lenders as depositors. Moreover, because the asset-based loans are very lucrative for the banks but not lucrative for the client, businesses tend to gravitate later on to a secured loan.
Yes it is a little more complicated but that is what banks do. Besides banks looking to grow assets cannot be terribly choosey these days. The idea that we can cherry pick is not a good game plan.
Despite the stabilization of debt markets, banks are still seemingly reluctant to lend to small businesses. The non-banks, such as Kabbage, Ondeck Capital and Fastpay.com, are roaring in with alternatives so now is not a good time for financial institutions to hunker down.