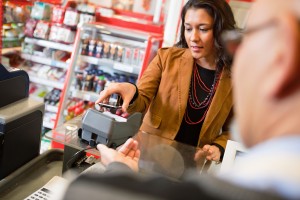 Over the past 25 years digital disruption has been occurring, but nowhere are these disruptions felt the hardest than by banks. Large established bank institutions are leading the charge in the digital disruption strategy and managing the velocity of technological change. Banks that don't adopt new technologies will have very few easy choices for growth.
Speed of adoption to new technologies, especially mobile banking, is arising from consumers' usage. Let's take a look at digital banking and three major providers of mobile payments: Apple Pay, Samsung Pay and Android Pay.
Mobile banking is becoming more prevalent than ever, due to ease and convenience. The major smartphone and mobile device manufacturers all seem to be getting involved with mobile banking and mobile payments.
Currently, Apple's iPhone leads the mobile market share with regard to handsets, at 42% share of market. While Samsung is at 28%. But more importantly is the operating system, in which Android leads with 52.4%, and not too far behind is Apple's iOS at 42.6%. Apple has showed small gains in recent months.
In a study, conducted by Pew Research Center, the results revealed that nearly two-thirds of Americans own a smartphone, which equals a whopping 64% of the population. A major increase can be seen compared to the statistics of only 35% from the Spring, 2011.
Apple Pay launched in October of 2014, and as of July 1st, 2015, Apple reports over 300 American banking institutions and credit unions are participating in the Apple Pay payment method. Google is a bit behind Apple and announced Android Pay in late May 2015 at Google I/O (though Google Wallet has been around since 2011). Samsung Pay delayed its launch until September of 2015.
Consumer trends in usage of mobile are rapidly changing. The Federal Reserve conducted a survey in December of 2014. We capture some of the relevant highlights on behavioral change in mobile usage below:
87% of the U.S. adult population has a mobile phone.
71% of mobile phones are [Internet-enabled] smartphones.
31% of all mobile phone owners with a bank account have used mobile banking.
52% of smartphone owners with a bank account have used mobile banking.
Among those mobile phone users with bank accounts who do not currently use mobile banking, 11% think that they will probably or definitely use it within the next 12 months, down from 12% a year earlier.
The most common use of mobile banking is to check account balances or recent transactions.
39% of all mobile payment users with smartphones have made a point of sale payment using their mobile phone.
31% of point of sale mobile payments were made by scanning a barcode or QR code displayed on their phone's screen at check out.
Residents of more rural areas have lower incidence of mobile payments use than residents of more urban areas.
21% of all mobile phone owners reported having made a mobile payment in the 12 months prior to the survey, up from 17% in 2013 and 15% in 2012.
48% of underbanked consumers had used mobile banking.
Mobile banking is slowly on the rise. There are benefits, but also still some concerns.
 PROS OF MOBILE BANKING:
Added fees for mobile features can be included in the bank's mobile transaction, such as expedited payments and credit monitoring applications.
Often banks and retailers will team up and offer reward programs to their customers.
For example, a large store may offer a particular discount on a high-priced item if their card is used to make the purchase. In turn, the bank will receive a percentage for the sale.
Mobile banking provides a substantial return on investment to financial institutions.
Fewer bank employees and branch locations are required due to the automated banking applications.
With more people using mobile devices, banks need to have mobile apps to retain customers that will want to use mobile banking in the future. And it's an opportunity to attract new customers from banks that are slow to adapt to mobile technology.
With mobile banking, clients can constantly keep tabs on their accounts to monitor any fraudulent activity that may jeopardize their funds.
Some argue that mobile banking is safer than previous banking solutions. The Federal Reserve report points out there are security concerns from consumers:
Concern about the security of the technology was a common reason given for not using mobile banking or mobile payments (62% and 5%, respectively, of non-users).
CONS OF MOBILE BANKING:
Consumer Financial Protection Bureau (CFPB) has concerns about limited availability of customer service when consumers experience errors in the application. The request for information is still ongoing regarding all items the CFPB had concerns about including customer service. (Lenderlaw Watch. 2014)
CONSTANT SECURITY UPDATES
New viruses and hackers threaten the safety of client information. New recommendations set by the CFPB must be followed to avoid breaches in security, such as account information, passwords, and specific customer details.
If the financial information of banking customers is compromised, class action lawsuits may be filed against the institution. Verizon found that the threat is currently low for mobile devices, but that it could increase in the future.
With the growth of technology and the increase in smartphone sales, it is inevitable that mobile banking will take over the place of many brick and mortar institutions.
The benefits of expanding customer base outweigh the risks, as long as customer privacy is thoroughly secured.
There are many details for banks to consider when offering mobile payment options whether in the form of Apple Pay, Android Pay, or Samsung Pay. A bank may even consider offering a proprietary version to ensure security and lower the hacking risk. As well as develop the relationships with local businesses to offer convenience as well as promotions and coupons to consumer users. Creating more stickiness in usage and ensuring more bank loyalty.
More information can be found in this article: Google, Samsung Drive Mobile Payments Momentum.
Here is a helpful chart for a deeper look at the mobile payment landscape: Navigating Mobile Payments Wallets
Tery Spataro is a EVP & Director of Innovation at CCG Catalyst. Follow CCG Catalyst on Twitter and LinkedIn.