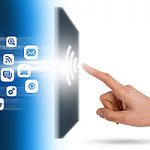 The terms fintech and API are not new terms; they just signify a change in today's increasingly digitalized financial world. How financial institutions fit into it remains unsettled.
Fintech, or financial technology, originally referred to just banking systems. However, it has come to refer to disruptors taking hold in financial services today. Handcuffed by regulations and infrastructure, many financial institutions struggle to compete with these fintech startups regarding innovation and speed in areas such as payments, money transfer, lending and investing.
Application program interfaces are not new either. The use of open APIs is a practical way for financial institutions to supply customers with faster, convenient access to funds, financial resources, and payment vehicles, especially when combating non-traditional financial players.
Many banking technology observers believe open API adoption will accelerate the movement towards banks-as-a-platform. That is, banks will begin to open their APIs to allow fintech firms and other developers to shape an extensive assortment of innovative, consumer-friendly products, available as apps hosted on a bank's online platform
This fundamentally provides a single place for customers to shop for products and services within third-party apps as well as their bank's core offerings.
The concept is that, because this requires relatively nominal set-up development, it provides an entirely new revenue streams for financial institutions. It also lets them compete on a level playing field with fintechs and other non-traditional competitors.
In addition, many organizations take advantage of APIs because of legacy or disparate systems that need help communicating with other systems. The objective is bringing together siloed systems to create new products or services or solve some other efficiency or operational issues.
With APIs becoming the epicenter of competition in the banking industry, there could be an increasing amount of alliances and acquisitions taking place to allow fruitful API integration within the banking environment.
The industry has seen financial institutions collaborating with fintech providers.
Looking ahead, APIs will enable more targeted offerings that rely on existing core infrastructures and growing partnerships with fintech leaders.
The systems really getting a lot of the buzz in the market are solutions with really slick, customer-facing front-ends because traditional banking platforms haven't done the greatest job with these. But, when digging into the functionality of these platforms they do not always provide robust back-end functionality such as underwriting capabilities or integration with third-party solutions.
Conversely, tech startups face many unexpected growing pains and challenges as well when integrating their technology with many credit unions' core systems.
Although new technology can speed loan processing or credit evaluation, those innovations must protect consumers and the financial system, Fed Governor Lael Brainard said in remarks before a conference on financial innovation. "'Run fast and break things' may be a popular mantra in the technology space; it is ill-suited to an arena that depends on trust and confidence."
"But it would be a lost opportunity if, instead of expanding access in a socially beneficial way, some fintech products merely provided a vehicle to market high-cost loans to the underserved, or resulted in the digital equivalent of redlining," Brainard added.
The Fed is reviewing the entire assortment of fintech innovations and ideas that are starting to transform components of the financial system. These include an assortment of programs such as a component that analyzes the credit profile and behavior of a loan applicant, as well as blockchain technology, which allows financial entities to share an encrypted ledger.
To learn more about fintechs and how their technology may benefit your bank let's talk.
CCG Catalyst is a leading management consulting firm connecting bank strategy to innovation, transformation, and disruption. We advise our clients on the direction of banking, development of the strategy and managing the disruption related to the execution of the tactics. CCG Catalyst leverages decades of deep industry experience to provide practical business strategies and organization, analytics, and technology consulting for our clients.