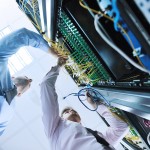 In this three-part series, I will discuss the fundamentals of a Core Systems Conversion. Over the next couple of posts talk about these topics:
Topic 1: Preparation strategy
Topic 2: Key people involved
Topic 3: The process
Steps to a Successful Conversion Strategy: Preparation strategy
A Core Systems conversion is a major event for any organization regardless of size. It requires a major commitment of time and resources to get it done successfully. Adding stress and risk to the process is the fact that while all of the conversion planning and implementation tasks are in process, the bank must continue to operate its business and service its customers without skipping a beat. Preparing any organization for a major Core conversion requires advanced planning and coordination across the entire enterprise. A Core conversion is much more than a transfer of data from one vendor to another. It is a transformation. Core conversions basically change the way a bank does business.  It impacts customers, staff, procedures, and product and service offerings. It requires an implementation strategy that allows an organization to meet its strategic objectives and keep risks at a minimum. Included in that strategy is how the system will be used by the bank to better engage and understand its customers. How the system will be used to increase market share. How the system will increase the efficiency of daily operations. Basically, a Core system implementation strategy is the framework for an institution to maximize its return on investment, solidify customer loyalty and increase the bottom line.
For a conversion to be successful, it is imperative that an organization establish the key drivers for switching from one Core banking system to another. Most importantly, it's critical that everyone in the organization know and understand what the new applications are and what they are expected to do. Many times vendor selections are made at a high level by a small team without the input of subject matter experts, the end users. As a result, employees don't have a clear understanding of how they will benefit from the new system. They may see aspects of the conversion as a step backwards in functionality. In some instances they may even see a new Core system as a threat to their jobs and the status quo. Therefore, without internal communications and failure to achieve employee "buy in" in the process could lead to conversion risk.
Core systems provide the tools to be used by management, sales teams and customer facing staff for every day decision making and cross sell opportunities. A Core banking system conversion provides the perfect opportunity to implement changes that enable a bank to offer new products and services, improving their competitive position in their marketplace with a direct impact on customer loyalty and the bottom line. They also can create procedural changes that result in increased operational efficiency. Those opportunities need to be identified and products defined in advance of the actual start of the conversion process. Ideally, these opportunities would have emerged during or immediately after the vendor selection process. Unfortunately, many banks wait for the conversion process to begin without a definitive bank defined plan of what they want to ultimately accomplish. Failing to define a strategy and communicate the conversion objectives to the organization as early in the process as possible will increase the risk of not enabling the organization to meet its long term strategic objectives and reasons for the conversion in the first place.
The next topic will be about Key People Involved.
Learn more about CCG Catalyst's track record for Core System Conversion.